Stella Brennan
With a practice that spans the handmade, new media, curation, installation, social projects and urban design, Stella Brennan's work deals above all with navigating the space and time between human subjects. Brennan prises open history, its losses and possibilities, interrogating colonialism, industrialisation and computerisation. Chief Curator at Wellington's City Gallery, Robert Leonard, has stated "Brennan…explores the history and currency of modernity, the dream of human perfectibility and emancipation premised on rationality, technology, progress. She researches modernity's grand schemes and utopian ideologies, and their fate in the brave new world of the present."
While her concerns remain consistent, her avenues of expression are diverse. Grounded in a sculptural practice and the materiality of making, her screen-based works range from a stitch-for-pixel hand-embroidery of the desktop of her computer (Tuesday, 3 July 2001, 10:38am, 2001–2002), to imagery gathered with a discarded medical scope (The Middle Landscape, 2009). She combines remaindered technologies with the close to hand – consumer-grade cameras, home-made scientific equipment, a portable spa pool (Wet Social Sculpture, 2006).
Her interest in the physicality of language and a conception of narrative as a technology has led to works ranging from a room formed of hanging flags with text burnt through their folded layers (Black Flags, 2016) to a rough approximation of pscychotropic architecture, using audio of a JG Ballard story fed through sound visualisation software (Tomorrow Never Knows, 2004).
Her video often entwines text, image and sound. Beginning with work about the Erebus Disaster (White Wall / Black Hole, 2005) and ranging from explorations of the legacy of World War Two (South Pacific, 2007) to the implications of atomic accidents (Object Permanence, 2018) these videos combine narratives based on extensive research with haunting and allusive soundtracks and ambiguous imagery.
Brennan has exhibited across Australia, Asia, North America, Europe and New Zealand and has been awarded Residencies including at Apex Arts in New York City, and Artspace in Sydney. After graduating MFA from the University of Auckland in 1999, Brennan co-founded Aotearoa Digital Arts and co-edited The Aotearoa Digital Arts Reader, the first comprehensive text on digital arts practice in New Zealand.
Brennan has been an essayist for artists including Ann Veronica Janssens and Patricia Piccinini, as well as critic for magazines including Art Asia Pacific, the New Zealand Listener and Art New Zealand. She has also served as an advisory editor for Eyeline Magazine, Australia.
Links
stella.net.nz
trishclark.co.nz/artists/brennan-stella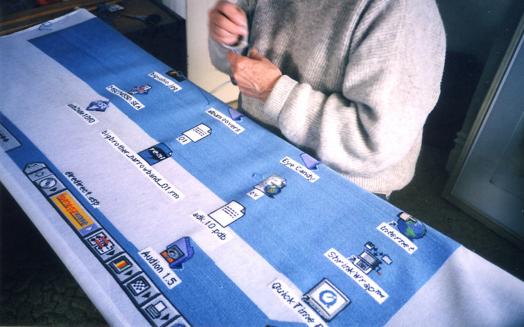 Josephine Brennan working on Tuesday, 3 July 2001, 10:38am, 2001-2002, cotton on canvas
Selected Exhibitions
2018     Object Permanence, Trish Clark Gallery, Auckland
               Kaleidoscope: Abstract Aotearoa, Te Papa Tongarewa, Wellington
2016    Black Flags, Trish Clark Gallery, Auckland
2015     Memory Hole, Trish Clark Gallery, Auckland
2013    Among the Machines, Dunedin Public Art Gallery, curated by Su Ballard and Aaron Kreisler
2012     every room i have ever been in, The Audio Foundation, Auckland
2010     Recontres Internationales Paris/Berlin/Madrid, The Pompidou Centre, Paris, curated by Jean-François Rettig
2009     Feedforward, LaBoral Centro De Arte Y Creación Industrial, Gijón, Spain, curated by Steve Dietz and Christiane Paul 
2008     Made Up: The 2008 Liverpool Biennale, Foundation for Art and Creative Technology, curated by Mike Stubbs
2007     White Wall/Black Hole, Christchurch Art Gallery
               Lo<=>No Tech, Videotage Hong Kong, curated by Vanessa McRae
2006     Zones of Contact, 15th Biennale of Sydney, curated by Charles Merewether
               The Walters Prize 2006, Auckland Art Gallery Toi o Tamaki
2005     Wet Social Sculpture, St Paul St Gallery, Auckland
2004     Tomorrow Never Knows, The Physics Room, Christchurch
2003     End User, Room 103, Auckland
2002     Another Green World, Artspace, Sydney    
2001    Dell, Lightbox, Auckland    
2000     The Fountain City, The Physics Room, Christchurch
               Fedex, The Blue Oyster Gallery, Dunedin

Curatorial Projects
2008    Cloudland: Digital Art from Aotearoa New Zealand (with Su Ballard and Zita Joyce)
The Substation, Singapore 
Stella Brennan, et al., Len Lye, Alex Montieth, PSN Electronic, Bruce Russell, Adam Willetts, Kentaro Yamada
2002-3    Dirty Pixels
Artspace Auckland; Adam Art Gallery, Victoria University of Wellington; Dunedin Public Art Gallery; Waikato Museum of Art and History
Stella Brennan, Joyce Campbell, Michel Gondry, Sara Hughes, Tim Ryan, John Simon Jr, Martin Thompson
1999    Nostalgia for the Future 
Artspace Auckland
Fiona Amundsen, Stella Brennan, Julian Dashper, Mikala Dwyer, Guy Ngan, Ann Shelton, Jim Speers

Selected Bibliography

Susan Ballard, Stella Brennan: Archaeologist of Suburbia, Eyeline magazine 86, 2017.
Sean Cubitt, The Ordering of Worlds: Two Recent Video Works by Stella Brennan, 
Reading Room 4, E. H. McCormick Research Library, 2010.
Stella Brennan and Su Ballard (eds), The Aotearoa Digital Arts Reader, Clouds Publishing, Auckland, 2008
Tessa Laird, Orchestrated Litanies; Zones of Contact, Eds Euan McDonald and Luke Parker, Biennale of Sydney, 2006.
Sean Cubitt, Cities at the Edge of Time and Robert Leonard, History Curator; 0–10, Ondine Publishing, Auckland, 2005.