Dieneke Jansen: 90 DAYS +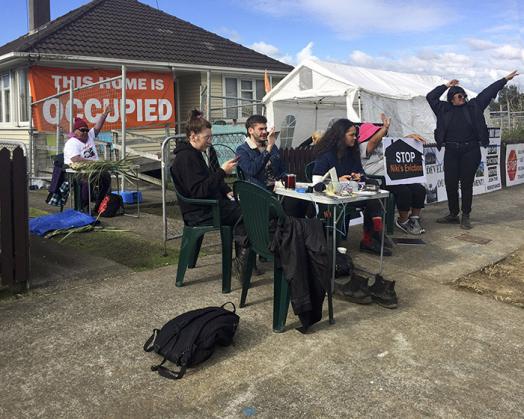 Te Tuhi, 13 Reeves Road, Pakuranga
May 13, 2018

to

Jul 22, 2018
On the 22nd of October 2016 Ioela Rauti (Niki) was issued a third 90 day eviction notice from her home of 22 years. As a member of the Tamaki Housing Group, she has been fighting the destruction and gentrification of her Glen Innes community and home since 2011. An occupation of Niki's home began with two conjoint marches arriving at her home on the 17th January 2017. This action, highlighted through media coverage and Niki's four subsequent court appearances, alerted people to the injustice and improprieties that took place between the government, the Tāmaki Regeneration Company and developers.
90 DAYS + invites viewers to consider the kaupapa of the activists: connectivity, hospitality, care and respect. Of particular concern is the relationship between the resident wahine elders and strident rangatahi (youth) through the practice ofako-ako (a two-way teaching and learning process). At the core of this collective determination for social justice is the reluctant face of the struggle: Niki Rauti. Niki subsequently asked Dieneke Jansen – an adjunct member of the Tamaki Housing Group – to witness this resistance.
Activating a space between aesthetics and activism, 90 DAYS + creates an immersive experience in the gallery, questioning how lens-based art practices might provide possibilities for observation and for listening, enabling visibility for that which sits outside fields of vision. At the core of this project is a desire to enable and expand the space for politics, to explore gestures that traverse the didactic and the poetic[1].
[1] Thompson, Nato. Seeing Power: Art and Activism in the 21st century. Brooklyn, NY: Melville House 2015.