Call for Proposals - Masons Screen Commissions 2020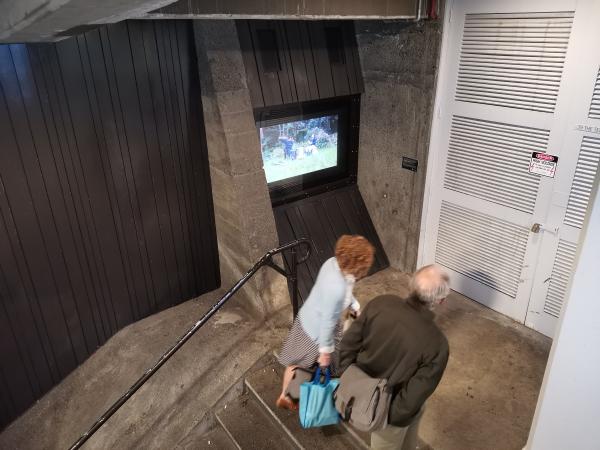 CIRCUIT and Wellington City Council are now accepting proposals for three new commissions of $600 for Wellington's Masons Screen.
A single monitor embedded in a walkway between the Terrace and Lambton Quay, Masons Screen was established as a public art project in 2016. Since then, over 50 video works have been seen by thousands of passers-by each month, as they commute between the centres of government, shopping and transport. The 2020 commissions will be shown on Masons Screen for a month each from November 2020 - January 2021. CIRCUIT will also commission an essay on the three works, to be published on the CIRCUIT website in 2021.
According to a 1913 letter to the Dominion newspaper, 'Mason's Steps' were named after Mr William Mason, who arrived in Wellington in 1842 and ran a blacksmith's shop at the back of the site. "In those days… there was nothing more than a rough track through the manuka scrub". Each proposal should consider the nature of public space, the fleeting (yet repeated) engagement of passers by, and the need for an ambient, intermittent or silent soundtrack. @circuit.org.nz>
Applications should include a description of the proposed project up to 1 page in length, with an additional bio of the artist, and details of any proposed collaborators. Included in the 1 page description of the proposed project should be a statement about how the project will respond to the context of public space.
Applications will be reviewed by Mark Williams (CIRCUIT), Eve Armstrong (Wellington City Council) and Mark Amery (Essayist). Successful applicants will be notified by 22 July 2020.@circuit.org.nz>
Send Proposals to: Mark Williams <director@circuit.org.nz>
Deadline: 10am, Monday 13 July 2020@circuit.org.nz>