Locating the Practice: recapping the 2014 CIRCUIT symposium in pictures
With guests from around the world and across New Zealand, the recent CIRCUIT symposium Locating the Practice: Exhibiting Artists' Moving Image was our marquee event for 2014. Below a quick round up of the presentations, shot in trademark low-light known to moving image-lovers everywhere.
Below: Image from Grosse Fatigue, 2013, © ADAGP Camille Henrot.
Video (color, sound), 13 minutes. Courtesy the artist, Silex Films and kamel mennour, Paris.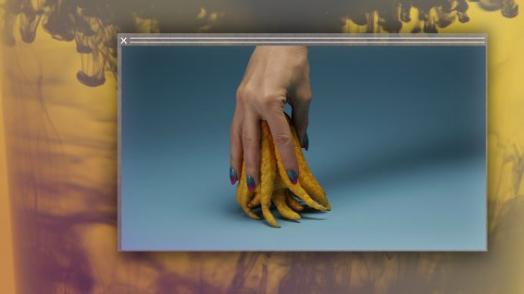 On the evening of Friday 15 August at the Academy Cinema we began LTP with a screening of of films by French artist Camille Henrot, which touched on some of the key themes of the symposium discussions to follow; the evolution of culture and systems of knowledge, and the role of the museum in display.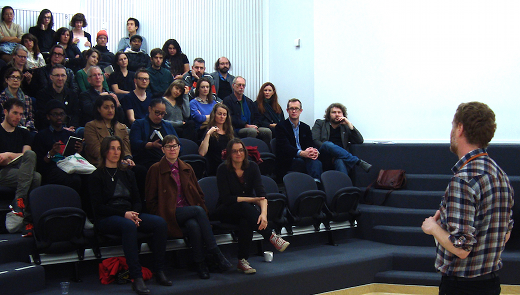 Day 2 at Elam School of Fine Arts, CIRCUIT Director Mark Williams introduces the schedule of discussions and screenings.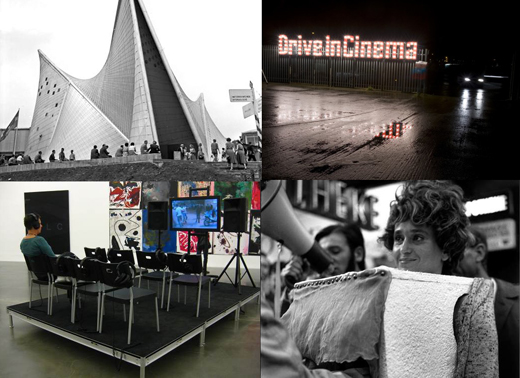 UK keynote George Clark began the day with a whistlestop outline of key works and provocations from the history of artists cinema and expanded practice entitled Cinema By Other Means. George's presentation took in everything from the video cassette magazine Infermental to (clockwise) POÈME ÉLECTRONIQUE Le Corbusier & Edgard Varèse, Philips Pavilion, 1958 Brussels World Fair; 12 Angry Films, Jesse Jones (2006); Tap and Touch cinema, Valie Export (1968); Active Negative Programme (2008) James Richards. Here George talk about the symposium on Radio New Zealand and on the CIRCUIT podcast.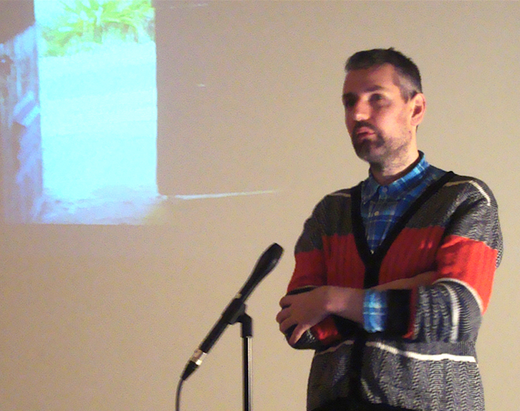 Species of Spaces: Visiting Australian presenter Nathan Gray talked about exhibiting at the recent Sydney Biennale, in one of the adapted prison/shipyard spaces on Cockatoo Island. Here Nathan talk about the Biennale controversy on a previous CIRCUIT podcast.
Below: Still from It for Others, Duncan Campbell (2013, UK, 52 min).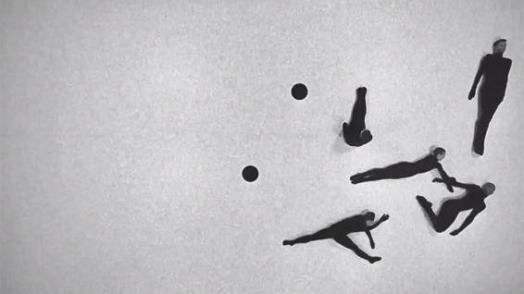 Taking Chris Marker and Alain Resnais' 1953 film Les Statues meurent aussi (Statues also Die) as both source and artefact, Duncan Campbell's film is a meditation on the life, death and value of objects.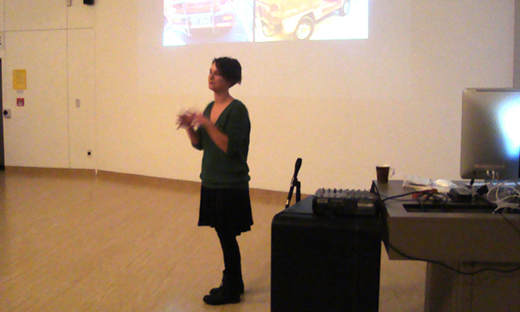 Terri Te Tau (NZ) discussed the exhibition of her work Unregistered and Unwarranted at New York venue Eyebeam for the conference PRISM Break Up. Terri's presentation and Duncan Campbell's film were later the subject of an end of the day discussion about the issues and complexities involved in exhibiting work out of orginal context. Here Terri talk about her work on a previous CIRCUIT podcast here.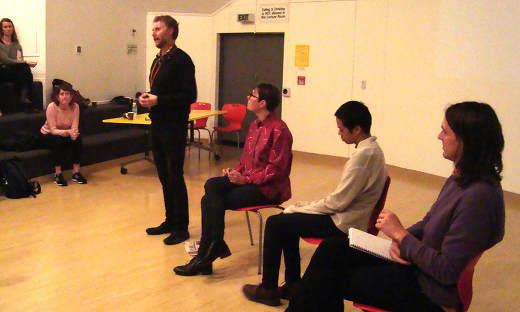 Alongside the discussions and screenings, LTP featured an installation of works in the Elam Project Space entitled Freefall by artists Louise Menzies and Sorawit Songsataya (representing the CIRCUIT artists study group the Auckland-based CIRCUIT Critical Forum). The day concluded with a discussion between the artists, George Clark and later the audience. Left to right; Mark Wlliams (standing), Louise Menzies, Sorawit Songsataya, George Clark.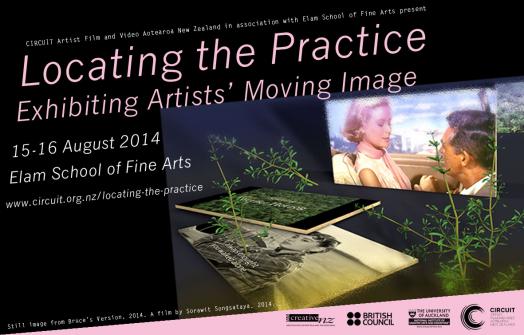 Locating the Practice: Exhibiting Artists' Moving Image was presented by CIRCUIT Artist Film and Video Aotearoa New Zealand in association with Elam School of Fine Arts on 15-16 August 2014 at the Academy Cinema and Elam School of Fine Arts at the University of Auckland.
The poster for Locating the Practice was designed by Kerry Ann Lee, with images from Bruce's version (2014) by Sorawit Songsataya.
Our thanks to our sponsors Creative New Zealand and the British Council. Special thanks to Gavin Hipkins, Kim Ellis, Joyce Campbell, Jim Speers and Derrick Cherrie at Elam, and all our guests and speakers. See you in 2015!