Nathan Pohio, Let it be to a Lofty Mountain, Christchurch Arts Centre, 20-29 Aug 2020
In Let it be to a Lofty Mountain, Nathan Pohio (Waitaha, Kāti Māmoe, Ngāi Tahu) draws upon his Māori heritage to create a moving photographic collage of Maukatere, of Kā Pākihi-whakatekateka-a-Waitaha (also known as Mount Grey, of the Canterbury plains). Selected from over 1000 photographs taken on site at the end of summer, Let it be to a Lofty Mountain rejects the imperial landscape tradition that has often dominated New Zealand art and popular culture since the colonial era. This is achieved by homing in on the details of the mountain landscape, especially those that are of a mineral, man-made and floral variety. So, the mountain is never able to be viewed in its entirety, but rather the photographs taken by Pohio were then looped together into a digital film strip, in order to create a two-channel video journey that is 52.33 minutes in duration.
In conversation with journalist Vicki Anderson, Pohio explained that the film "was designed to be stood and watched continuously or you can look at it for a while, go away, come back another time and see how it has changed. It takes on the quality of being a moment and a memory of that moment." (1) A catalogue essay by Simon Palenski was also available to take away, with extra information about the context of the work and its relation to Māori culture. There were also opening and closing events with live music. The opening event featured Dunedin's Tristan Dingemans, performing as Kāhu, after Mahina Ina Kaui (Ngai Tahu, Kati Huirapa ki Puketeraki) prepared the space by providing the first sound on customary taonga puoro – Pūtōrino. Similarly, there was a closing event featuring noise artists Dave Imlay and Rory Daly performing as No Exit, which provided another opportunity for people to enjoy the film in its entirety with live musical accompaniment.
Beginning with a deep black focus on the sooty mold that grows on the bark of the beech trees, the video then moves to images of rock, soil, lichen and leaves of the beech forest at the lower parts of the mountain, before moving above the tree line. Here a significant section of the video pictures the bright white of a transmitter station at a plateau just below the mountains peak, expanding the sci-fi feel. As the focus on the eerie industrial structure and its metal grid-like shapes is followed by a vast blue sky behind it,  there is a feeling of disorientation and vertigo that is grounded as the photos come back down to earth. This sense of disorientation is enhanced as the left and right projections of these photos—which come into view of the right-hand side of the two screens before moving off to the left—are not in sync for the whole duration of the video, gradually and mysteriously going out and then back in sync as the video progresses. Previous installations by Pōhio have made a point of embracing the limitations of available technology, Spectre Echo Landfall (2007), for example, embraced the limitations of DVD players. Whereas, the twin projections and sound component in Sfakia: Day For Night, two files for two monitors (2018) - which begins in sync and was left to run out of sync for the duration of the exhibition - makes the form explicit in its very title. It is ironic then, that when partnering with Pixel as sponsor, his files run through their equipment should somehow warp time so engagingly at the centre of Let it be to a Lofty Mountain.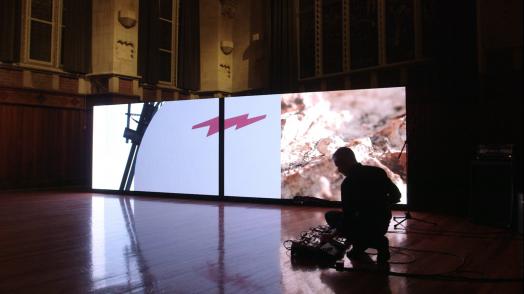 Nathan Pohio, Let it be to a Lofty Mountain (2020), Christchurch Arts Centre, 20-29 Aug 2020. Musician: Tristan Dingemans
The final shot is a delicate pale-yellow blade of grass bearing dried seed, before blackness takes over yet again. This development creates both a feeling of the film coming 'full-circle', as well as an intimacy that contrasts with the vastness of the photos of the transmitter station. The grass feels symbolic: there is a sense of hope that comes from the symbolism of plant seeds that is somewhat melancholy due to the whisper of autumn such a dried remnant of the natural world possesses. Because the industrial man-made features of Maukatere are shown alongside these natural phenomena, the view of the mountain is not sentimental or Romantic, but rather is attuned to the way that nature and culture are intertwined. In this sense, Let it be to a Lofty Mountain is reminiscent of Pohio's earlier work Naïve Melody, but this time with the focus on the man-made structures, plants and minerals on the side of the mountain, as opposed to the native birds with their tracking tags in place in Naïve Melody.
Pohio's rejection of dualisms in his landscape based works is also reflected in their context specific screenings: Naïve Melody was shown in the Wellington City Airport International Arrivals Hall, and Let it be to a Lofty Mountain was shown in a similarly public space, namely the Great Hall at the Christchurch Arts Centre. In the Q&A session after the closing screening of the film, Pohio mentioned how he is accustomed to adapting his film screenings to the space available to him at the time, for example, by adapting from a large projection screen to a smaller wall mounted television screen. The space in which the work is showing thus ties in with the nature of the work itself, and the choice to show in the Great Hall contrasted with the anti-colonial nature of the work, with neo-Gothic arches and stained-glass windows providing a backdrop to the film. This contrasting and blending of dichotomies such as nature and culture, art and everyday life, or the native and the introduced, is indicative of several changes in the wider context of New Zealand art that are related to concerns such as ongoing injustices against indigenous peoples around the world, and the closely linked destruction of the environment under rampant neoliberal capitalism.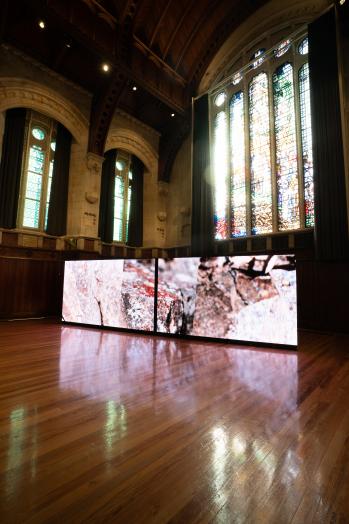 Installation Shot: Nathan Pohio, Let it be to a lofty mountain (2020). Christchurch Arts Centre
The critique of colonial, and related capitalist ideologies has been the common descriptive trope of art writing in response to such landscape-based work. 'Art as critique' is the refrain that provides the reasoning behind its creation and its display. Yet the form of this critique has changed, particularly over the last few decades, and Let it be to a Lofty Mountain reflects this change to a postcritical view of landscape. Gone is the pastiche and irony inherent to much postmodern New Zealand art of the 90's, which poked fun at the cultural nationalist canon's focus on empty and harsh landscapes, primarily of the rugged South Island. This has been replaced by art that allows elements of hope, sincerity and emotion to sit alongside the cynicism and rationality of more traditional forms of critique.
This sense of optimism and hopefulness is embodied by the Māori proverb which provided the title for the show: "Whāia te iti kahurangi ki te tūohu koe me he maunga teitei" / "Seek the treasure you value most dearly: if you bow your head, let it be to a lofty mountain". This proverb is reminiscent of an essay written by John Newton titled Colonialism Above the Snowline: Baughan, Ruskin and the South Island Myth. (2) In this essay Newton explains how the cultural nationalist 'South Island Myth' was used to justify colonial exploitation of the South Island's landscape, which was viewed as a relatively empty terra nullius. However, other reasons for the relative emptiness of the South Island with regards to Māori population are explained by Newton, particularly with regards to the sacredness of mountains. Pohio's tribute to Maukatere is informed by this sense of sacredness and respect for the mountain, which is considered both an ancestor and place of spiritual activity in Māori culture. As explained in the catalogue essay by Simon Palenski: "The name Maukatere can be interpreted as floating mountain, a reference to clouds that regularly cover the mauka's slopes but leave its peak showing above the cloudline. It is also said to be a place where spirits leap from on their way to Cape Rēinga in order to return to Hawaiki through the underworld" (p.1) (3).
The renaming of Maukatere as Mt Grey, after Sir George Grey, Governor and Premier of New Zealand from 1845-1879, speaks to the era of colonialism, which has been followed by vast modification and destruction of the natural environment. This destructive aspect of colonialism on the landscape has been associated with a view of nature that is something separate from culture, something that can be captured in one panoramic view, mapped, sold, controlled and used for national branding. However, this context is not something that is apparent in the film, but rather is noted as information in the catalogue essay. The film itself has a more emotional than didactic effect, in line with the hopefulness and sincerity post-critical forms of landscape art embody. Let it be to a Lofty Mountain is part of a wide range of work by contemporary artists who are responding to New Zealand's landscape tradition in a way that inspires hope, rather than cynicism. This is important in the current context of environmental crises and social injustices due to the ongoing effects of colonialism, as well as heightened anxieties around Covid-19 that are permeating our current reality (for example, the opening and closing events were seated to observe social distancing).
Art as critique is still as relevant as ever, but in order to be heard in the current climate it must offer us something we are not already receiving elsewhere. This film brought the sacred Maukatere to the heart of a battered Christchurch CBD, and in doing so sent a signal of a different future: one where an interrelationship between nature and culture holds an element of hope.

______________
(1) https://www.stuff.co.nz/the-press/christchurch-life/122507059/lofty-land...
(2) Journal of Commonwealth Literature, 1999, 34 (85).
(3) "Let it be to a Lofty Mountain" exhibition catalogue, 2020.
(4) W.J.T. Mitchell (ed.), "Imperial Landscape". In Landscape and Power, 1994, University of Chicago Press: Chicago. p.5-34.