Big Wave Aotearoa; an installation by Alex Monteith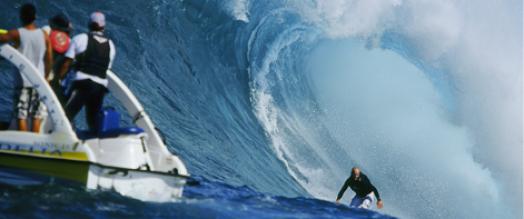 Apr 13, 2013

to

Jul 28, 2013
Auckland artist Alex Monteith explores high performance surfing in this new video work. A collaboration with Doug Young and exponents of Aotearoa's Big Wave Surfing community.
"Big Wave Aotearoa demonstrates the relentless ambition and drive of high performance surfing and the endless search to ride the greatest wave of all," Emma Bugden, Curator.
Alex Monteith is a new media artist and academic whose work incorporates sound, performance, photography, film, video, kinetic and network components, while her practice explores the politics, freedoms and limits of consumer technology. Her large-scale works involve collaboration with specialists from outside the art-world including sheep-dog triallists and New Zealand racing motor-cyclists.
No stranger to the surf community, for six years Monteith was a competitive surfer – she was the Irish National Women's champion in 2001 and represented Ireland in the 2002 ISA world surfing games in Durban, South Africa and the European Surfing Championships in 2001. She has also competed on the NZ national circuit.
In 2010, Monteith worked with the Royal New Zealand Air Force 3 Squadron & SQDNLDR Oliver Bint at Dip Flat to choreograph three simultaneously flying RNZAF Iroquois helicopters to perform a flight routine, recorded by the artist for a three-channel video installation. Also in 2010, Monteith was nominated for New Zealand's most important art award, the Walters Prize, for the work Passing Manoeuvre with two motorcycles and 584 vehicles for two-channel video installation. This daring work documented two motorcyclists "lane-splitting" on Auckland's Northern Motorway during morning rush hour traffic. The semi-illegal continuous passing manoeuvre took place from the Greville Road onramp, over the Auckland Harbour Bride, to the first city exit.
"As in many of her works, Alex Monteith has taken advantage of contemporary technology to update the kinds of image-making experiments undertaken by structuralist filmmakers in the 1960s, deriving a formal composition from the action of vehicles....Our grasp of movement and space is challenged by Monteith's elegant abstraction." The Walters Prize Jurors
Alex Monteith was born in Belfast, Northern Ireland and moved to New Zealand with her family in 1987. She currently lives and work in Auckland. Monteith completed a BFA in Photography in 2001, an MFA in Intermedia and the time based arts and a DocFA at the Elam School of Fine Arts, The University of Auckland. In 2008 she was awarded an Arts Foundation New Generation Artist Award.
Recent exhibitions include 2.5 Kilometre Mono Action for a Mirage, Frankfurter Kunstverein, Frankfurt, 2012 (solo), Last Ride in a Hot Air Balloon: the 4th Auckland Triennial, 2010, Accelerated Geographies, Govett-Brewster Art Gallery, New Plymouth, 2010 (survey exhibition) and Unerved: the New Zealand Project, GOMA, Brisbane. In 2012, 2.5 Kilometre Mono Action for a Mirage was included in Focus on New Zealand, a screening at the Centre Pompidou, Paris. In addition to exhibiting her own work, Monteith regularly exhibits as a member of the collective Local Time, including the exhibition Local Time Horotiu, St Paul St Gallery, Auckland, 2012.
This project has been generously supported by the University of Auckland, National Institute of Creative Arts and Industries, with support from the Department of Conservation.