CIRCUIT Symposium 2020: Sovereign Pacific / Pacific Sovereigns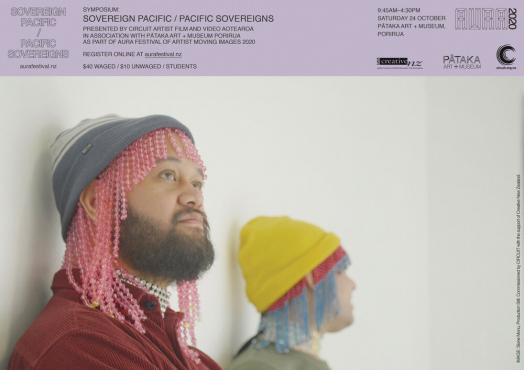 Presented by CIRCUIT in association with Pātaka Art + Museum, Porirua. Saturday 24 October, 2020.
Convened by David Teh (Singapore), Keynote by Dr. Carl Mika (Aotearoa)
$40 Waged / $10 Students
What is sovereignty? Is it innate and universal, or something to be contested and won, in a given place and time? The word suggests an autonomy that is at once individual and collective, yet sovereignty may be more than political, and more than strictly human. Indeed, as our modernity culminates in mounting global crises, we are compelled to recalibrate all our rights and freedoms in favour of others, of animate and inanimate things, of the planet itself.
Art may be sovereign too; in moving images, sovereignty may be implicit (e.g., in the psycho-politics of montage, the gaze, etc) or asserted explicitly, as in ethno-fiction, or theories of third (or fourth) cinema; while in today's digital media, both the grammar of images and the visuality of text are more material than ever. What does the new immediacy of self-expression mean for sovereignty?
This symposium, co-hosted by CIRCUIT and Pātaka Art + Museum, will explore how sovereignty is inscribed in art – on page, on screen, in space, on bodies, and in the natural world. Is it altered by contemporary media? Which histories does it invoke, and which does it counter? The 1-day programme will bring together artists and thinkers in an interdisciplinary dialogue with the 2020 Circuit Artist Cinema commissions, and special guest presenters from outside Aotearoa New Zealand.
Sovereign Pacific / Pacific Sovereigns is presented as part of AURA Festival of Artist Moving Images, which also include the premiere of the annual CIRCUIT Artist Cinema Commissions on 23 October.
Full details TBC