Gonda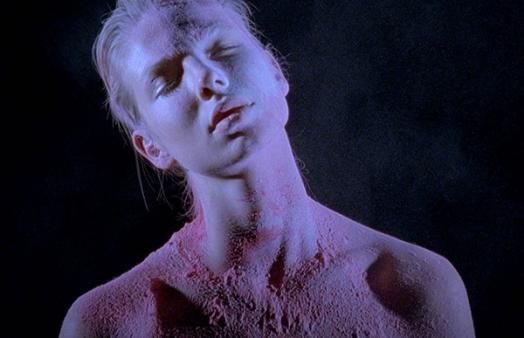 Gonda (2012) is a vivid, kaleidoscopic 30 minute film by Austrian artist Ursula Mayer which responds to a play called Ideal written by free-market advocate Ayn Rand.
Ayn Rand's original play followed Kay Gonda, a movie star suspected of murder, as she seeks support from various fans, most of whom disappoint her. Written in the 1930s, it was never produced or published during Rand's lifetime. Since her death it has since been published multiple times and produced twice, in 1989 and 2010.
A radical counter to Rand's authoritarian philosophy, Gonda addresses ideas of beauty, sexuality, gender and sex. Mayer worked with Dutch transgender model Valentijn de Hingh, circumventing a limited gender casting and making a pointed comment on the traditional gender stereotypes perpetrated by the mainstream film industry, leaving behind traditional binaries of male and female, black and white, gay and straight. "Valentijn is really an amazing human whose consciousness is expressed in gender fluidity. She stands in that betweeness. She is an amazing collaborator and a perfect canvas for these ideas" - Ursula Mayer, Port Magazine
The film itself is a vivid journey that follows de Hingh across a barren landscape, and into a staged studio set where an ensemble cast voice lines from Rand's original play. Based on a a structure of polyvocal address written by writer Maria Fusco, Gonda is a radical reimagining of possibilities for cinema.
Watch the trailer here.
Gonda is presented by CIRCUIT in assocation with its' annual symposium entitled The Thickness of Cinema, taking place this year on Saturday 26 August at Christchurch Art Gallery Te Puna o Waiwhetu.
Note: A free bus will depart for the Wunderbar at 6.30pm from outside the CWEA. Contact director@circuit.org.nz to reserve your place. Bus returns 9pm.