Goodnight Kiwi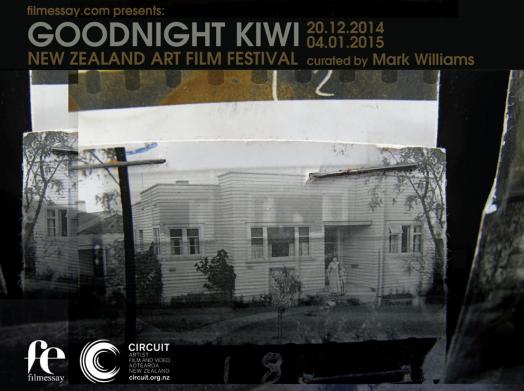 Dec 20, 2014

to

Jan 4, 2015
Goodnight Kiwi or; Tonights broadcast has now ended, regular transmission will resume at 6am. 
Before the advent of 24 hour broadcasting in 1994 the evening closedown of New Zealand state television was signaled first by a two-minute animation called the Goodnight Kiwi, then followed by several hours of either static or a television test pattern. 
These 12 videos are offered as a collection of alternative sign-offs, transitions into the post-broadcast hour and/or potential place holders to fill the twilight hours between regular broadcasts.
Alternately humorous, abstract and challenging, Goodnight Kiwi presents a series of direct addresses to the viewer. Recognising the ubiquity of the internet across the globe, this programme is designed to be broadcast somewhere between the hours of 2-4am. 
Reflecting the often solitary and ritual nature of technological occupation, Goodnight Kiwi variously offers aesthetic transformation, mass media critique or moments of personal reflection arising from the effects of exhausted wakefulness.
Artists: Daniel von Sturmer, Bryce Galloway, Bronwyn Holloway-Smith, Miranda Parkes, Brit Bunkley, Mike Heynes, Ben Holmes, Gemma Syme, Clinton Watkins, Lydia Chai, NA Royal, Johannes Contag
Curated by Mark Williams for CIRCUIT Artist Film and Video Aotearoa New Zealand. 
Presented by filmessay.com and CIRCUIT.