Hanoi DOCLAB presents Jo-Ha-Kyû / Hard Rails Across A Gentle River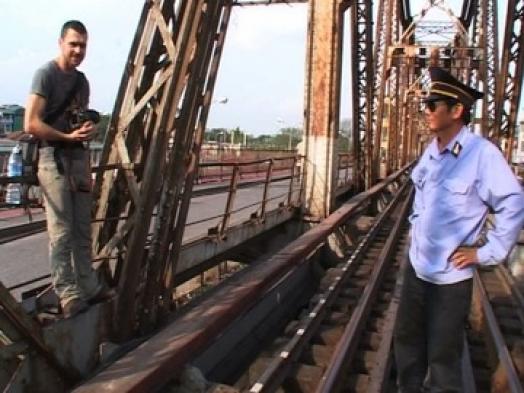 Free Screening: Hanoi DOCLAB presents Jo-Ha-Kyû / Hard Rails Across A Gentle River.
Based in Hanoi, Vietnam, Hanoi DOCLAB is a 'laboratory for documentary film making and video art', which has nurtured some of the most innovative moving image practice to come out of South East Asia. Join us for a special screening of works by artists associated with this initiative, including Nguyen Trinh Thi, artist and Director of Hanoi DOCLAB.
Jo-Ha-Kyû (2012) 11 mins a film by Nguyen Trinh ThiUsing the essential concept of narrative structure in traditional Japanese temporal arts, Jo-Ha-Kyû, the filmmaker crafts a subjective impression of Tokyo shortly after the 2011 Japanese earthquake. Describing her film as a poem about the conflict and co-existence of the concrete and abstract worlds, Jo-Ha-Kyû moves between objective observances and subjective experience, documentary and fiction.
Nguyen Trinh Thi is the founder and director of the Hanoi DOCLAB, a training center for documentary and independent, experimental films established in Hanoi, Vietnam. She is also the most notable video artist on Viêt Nam's contemporary art scene.
Hard Rails Across A Gentle River (2010) 45 mins A film by Tran Thi Anh Phuong, Do Van Hoang, Pham Thu Hang and Tran Thanh Hien. Produced by Nguyen Trinh Thi, Jamie Maxtone-Graham and DocLab with funding from British Council and support from Goethe Institut.
Three women working street-side in a crowded city intersection. A group of men bathing naked on a quiet island in the middle of a slow moving river. A security guard of the rail station patrolling on the bridge above it. Originally four separate films made by film-makers from Hanoi DOCLAB, Hard Rails Across A Gentle River was turned into a single, 45 minute documentary of direct observations of life and culture in contemporary urban Vietnam.
Seats are free, but limited. Secure yours at citygalleryevents@wmt.org.nz
This is the first of four one-off screenings as part of Moving on Asia. Look out for: Meiro Koizumi (direct from showing at MoMA, New York) 4 April Bangkok Experimental Film Festival 20 April Simon Fujiwara 1 May