Jordan Wolfson / Laure Prouvost screening at The Academy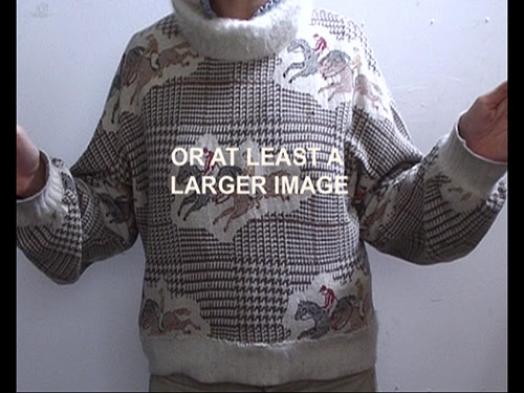 Image: Laure Prouvost, Monolog, 2009, still. Courtesy of Laure Prouvost and LUX, London.   
Artspace and Window are pleased to present a one night only screening of Jordan Wolfson's Con Leche and Laure Prouvost's Monolog.
Con Leche (2009) Jordan Wolfson
Projected video animation, color, sound, 22 min  
Courtesy the artist, David Zwirner, New York and Sadie Coles HQ, London 
Jordan Wolfson was born in 1980 in New York. In 2003, he received his B.F.A. in sculpture from the Rhode Island School of Design. His work was recently presented at a solo show Chisenhale Gallery in London. In 2013, Jordan Wolfson: Ecce Homo/le Poseur was organized by S.M.A.K. in Ghent. Other institutions which have previously hosted solo shows include the Kunsthalle Wien, Vienna; REDCAT, Los Angeles (both 2012); Kunstsammlung Nordrhein-Westfalen, Düsseldorf (2011); CCA Wattis Institute for Contemporary Arts, San Francisco (2009); Swiss Institute of Contemporary Art, New York (2008); Galleria d'Arte Moderna e Contemporanea di Bergamo, Italy (2007); and the Kunsthalle Zürich (2004). In 2009, Wolfson received the Cartier Award from the Frieze Foundation.  
Monolog (2009) Laure Provost
Color, Sound, Video, 12 min 
Courtesy of LUX, London  
Laure Prouvost was born in Lille, France, in 1978. She studied at Goldsmiths College and Central St Martins, London. Her recent solo presentations include the Max Mara Art Prize for Women, Whitechapel Gallery, London, and Collezione Maramotti, Reggio Emilia (2013); Schwitters in Britain, Tate Britain, London (2013); Why Does Gregor Never Ring? Shut Your Lips, Somewhere Under That Bridge Lies the whole Truth (The Wanderer Sequence 5), MOTINTERNATIONAL, London (2012); and Frieze Projects, Frieze Art Fair, London (2011). In 2013 she won the Turner Prize, while in 2011 she received the Max Mara Art Prize for Women and in 2009 the EAST International Award in Norwich, UK. In 2010, her film Monolog won the main prize at the international competition of the Oberhausen Film Festival, Germany. Wednesday February 19 7:30pm- 8:30pm (prompt start) Academy Cinemas, Central Library Building, 
44 Lorne Street, Auckland City FREE