Six videos for TEZA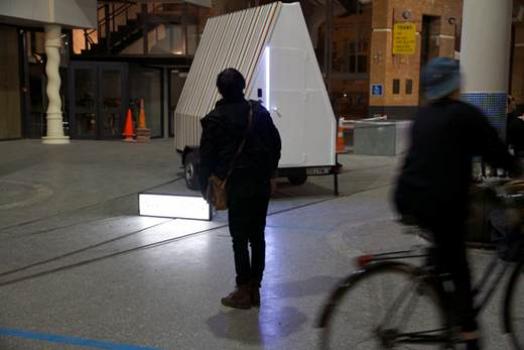 New Brighton, Locations Vary Daily
Nov 26, 2013

to

Dec 1, 2013
CIRCUIT Artist Film and Video Aotearoa and Picture House present: Six videos for TEZA; 6 videos by contemporary New Zealand moving image artists offered in response to 6 daily TEZA provocations. Artists: Rebecca Hobbs, Steve Carr, Lucien Rizos, Claire Harris, Layne Waerea, Murray Hewitt. Presented by CIRCUIT Artist Film and Video Aotearoa New Zealand and Picture House.
Sign up to www.picture-house.info to receive daily notifications of the screenings.
For the week of TEZA New Brighton will be occupied by Picture House, a two-seated cinema in a mobile billboard trailer created by Makeshift Studios. Picture House launched as part of FESTA (Festival of Transitional Architecture) and screens a new film in a new place each day. People sign up on Picture House's website then receive an email alert on the morning of every screening containing film and location details. Exterior painted by Miranda Parkes. 

Tuesday 26 November
TEZA theme: Optimism doesn't need a permit

Mangere Bridge: 246 Meters (2010) Rebecca Ann Hobbs
2.48 minutes, Digital Video, sound
Video courtesy of the artist

A dancer maps a city landmark in a series of whines, pops and rolls. 

Wednesday 27 November
TEZA theme: Nature knows no waste

Burn Out (2009) Steve Carr
4.54 minutes, 16mm film transferred to digital video file, silent
Video courtesy of Michael Lett and the Artist. Collection of the Auckland Art Gallery, Auckland Art Gallery Toi o Tāmaki, purchased 2011
In a suburban street, Burn Out revels in both the glory and waste of petrol, rubber and metal. 

Thursday 28 November
TEZA theme: What are you worth?

Musicians at Work (2010) Lucien Rizos
56.30 minutes, Digital Video, sound
Video courtesy of the artist 

Filmed on streets, alleyways and amongst shopping districts across New Zealand, Musicians at Work captures a dozen street musicians looking to earn a dollar from passing pedestrians. 

Friday 29 November
TEZA theme: What does occupation look like?

Born in Gore (2011)
 Claire Harris
2.15 minutes, Digital Video, Sound
Video courtesy of the artist
Harris' dryly comic work is a howl of protest registered somewhere in the middle of nowhere.
Saturday 30 November
TEZA theme: Lets bring art and people closer together

An unsuccessful attempt at chasing fog (2012) Layne Waerea
3.43 minutes, Digital Video, Sound
Video courtesy of the artist
This video work operates as evidence of an intervention that explored ideas related to land ownership and land use. Late summer, 5:45 a.m., the idea was to delay the early signs of Autumn and to chase fog from a neighbouring farm. And while this work considered notions of trespass and transgression, ultimately with the rising sun and a solitary pukeko as witness, it was an intervention that at best…its only success was failure. 

Sunday 1 December
TEZA theme: Put the new back in New Brighton

Barbara (2008)
 Murray Hewitt
3.53 minutes, Digital Video, Sound
Video courtesy of the artist
Murray Hewitt's video wryly addresses the utopian aspirations of new suburban sub-divisions.