Symposium Day 2: Reuse, Retell - curated and presented Dr May Adadol Ingawanij (Thai/UK)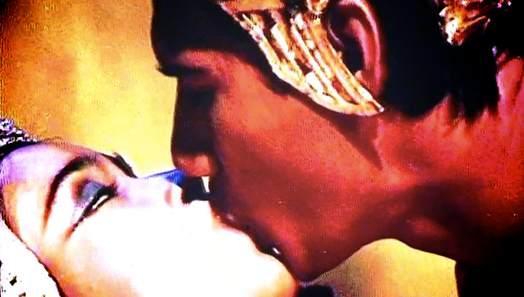 Elam School of Fine Arts, Free Admission
Still from Time of the Last Persecution (2012), Taiki Sakpisit (TH)
REUSE, RETELL curated and presented by Dr. May Adadol Ingawanij
"The 6th edition of the Bangkok Experimental Film Festival opened in Thailand last year under the theme of 'raiding the archives.' We wanted to show how moving image artists use the formal, documentary and sensorial capacities of the moving image to engage critically and imaginatively in the politics of memory. This touring programme highlights various ways in which artists in Asia continue to use strategies of re-editing, re-assembling and conceptual montage to evoke otherwise imperceptible experiences in turbulent times. Such formal strategies seem particularly suited to conveying the emotional intensity and the unspeakable dimensions of finding oneself caught up in the maelstrom." - Dr. May Adadol Ingawanij
A Soldier's Song Sample Experiment, Nguyen Trinh Thi (VN), 2011, 5:00
State-sponsored feature films functioned as propaganda during Vietnam's war-torn past, and now exist as an archive of problematic origin. By re-editing fragments of emotionally charged moments from the 1973 film Song to the Front, as an ambiguous homage to the skill that went into the making of these films, the artist creates a paradoxical space for asking how one now engages with the artefacts and aesthetics of war.
A Brief History of Memory, Chulayarnnon Siriphol (TH), 2010, 14:00 Dedicated to the people who were killed during the recent political crisis in Thailand. A mother who lost her son in April 2009 recalls that day. The resonance between her voice and the abstract, eerie images create a communal space of mourning.
Untitled#1, from the series 'Eight Men Lived in the Room,' Hyewon Kwon (ROK), 2010, 5:56
This project started with the discovery of news film footage in South Korea's National Archive. The 45-second footage, filmed in 1961, reported the completion of a workers' dorm in Seoul which was demolished in 1999. No other official records of this building exist except this clip. Untitled#1 combines original news footage with scripted news performance based on facts found in newspapers and administrative documents.
Air Cowboy, Tanatchai Bandasak (TH), 2010, 3:00
A collage of creaturely life on the move far from the bright lights of the metropolis.
And I Make Short Films, S.N.S Sastry (IN), 1968, 16:00
The film explores the process, ideas and context of documentary filmmaking in India at the time – art or documentation of reality. The views expressed in the film are sometimes bitter, often humorous, at times satirical but seldom complimentary.
Time of the Last Persecution, Taiki Sakpisit (TH), 2012, 6:30
The mythological was a crazily imaginative genre of Thai B-movies. Making delightful uses of rudimentary special effects, its flaming creatures were constantly changing outward appearance and shifting figural form in epic tales of thwarted love and immutable destiny. Assembling moments of eruptive beauty from five of these films, all of which were made in the early 1980s, Time of the Last Persecution reanimates the force of metamorphosis in the rhythm of a soaring cadenza.
Dr May Adadol Ingawanij is Senior Research Fellow, University of Westminster, London and was the curator of The 6th Bangkok Experimental Film Festival in 2012. Dr Ingawanij's research and teaching areas cover cinema history, Asian cinema (focusing on cinemas in Southeast Asia and Siam/Thailand), theories of spectatorship, independent and experimental moving image aesthetics, cinema and politics, moving image curating, and radical practices of moving image exhibition.
Reuse, Retell is presented as part of Looking Back into the Future - a symposium on artist moving image practice, Auckland, August 29-31 2013. Admission: FreeVenue Directions: Elam School of Fine Arts, 20 Whitaker Place, Elam Lecture Theatre, Ground Floor, Main Fine Arts Building. Parking available at the Owen Glenn Building.
Dr May Adadol Ingawanij's visit to New Zealand has been made possible with the generous support of the Asia New Zealand Foundation