This is not film-making. Artists work for cinema (International Premiere)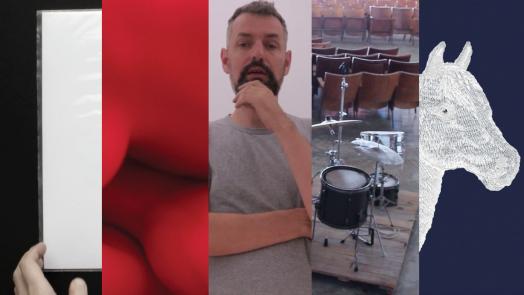 This is not film-making. Artists work for cinema features five new works by New Zealand artists Gavin Hipkins, Juliet Carpenter and Gregory Kan, Daniel Malone, Louise Menzies and Nathan Gray (AU). Commissioned by CIRCUIT and curated by George Clark (UK), each artist was invited to make a work for cinema responding to the writing of the late New Zealand conceptual artist Julian Dashper (1960-2009). The screening at CLOSE UP is the international premiere and will be introduced by George Clark, and followed by a conversation between Clark and participating artists Daniel Malone, Gavin Hipkins and Nathan Gray.
Centrally focused on the history, theories and popular ideas of abstraction, conceptualism and minimalism as working methodologies, Julian Dashper's work sought to understand the cultural and geographical position of New Zealand globally. His practice considered how this country received and disseminated visual information, and manifested itself in various forms including paintings, photographs, found objects (which he infuses with abstract images), various multiples, limited edition CD and 12" records and a series of conceptually driven videos. As Art Historian Christina Barton says; Dashper has "the unique perspective of attending to an internationalist art history from a distance, enabling him to devise strategies to work around his geographical isolation whilst simultaneously articulating its effects."
The five artists in This is not film-making. Artists work for cinema are all established inter-disciplinary practitioners, working across the fields of moving image, sculpture, sound and photography. Each were each invited to consider the work and writing of Dashper as a model, inspiration or starting point; but to create original works reflecting their own distinct practice. Curator George Clark (UK) says "While I'm interested in how the cinema can be understood as a place for engagement and circulation of art and ideas, Dashper's position outside of the dominant discussions of film and video, and his interest in history, distance and negation are also factors that have drawn me to consider his writings as a productive basis for this project. True to Dashper's work I have invited the artists to make responses that may take the form of negation or reframing of the terms of this invitation."
Dashper's writings were posthumously collected in This Is not Writing (Auckland: Clouds and Michael Lett, 2010). A selection of Dashper's video works are available to view on the CIRCUIT website.
This is not film-making. Artists work for cinema
7.30pm, Wednesday 10 May
CLOSE-UP Cinema, 97 Sclater Street, London E1 6HR
£10 standard / £8 concessions / £6 Close-Up members
Transport:
Tube: Shoreditch High Street, Liverpool Street; Aldgate East and Bethnal Green
Bus routes: 8 26 35 47 48 55 67 78 149 242 243 388