Description: Two channel digital video and audio installation
Exhibition mode: Single screen with double image. Synchronous. Looped
Media details: Super 16 transferred to HD Video
Synopsis: Until it Runs Out was filmed over one year in the Mangere inlet and records the ecologies of the Old Mangere Bridge, the construction of an artificial beach on Orpheus drive and the foreshore birdlife. The images were captured on fifty year old black-and-white 16mm reversal stock that reveals signs of deterioration and failing of emulsion. Randerson also collaborated with environmental scientists from Auckland Council, who dived to attach an EXOsonde instrument for measuring turbidity and other water quality parameters, to understand more about whether the newly created Onehunga beach will be safe for swimming. Sonic interpretations of this water quality data form the soundtrack to the work.
Installation Shot: Until it Runs Out (2014) Janine Randerson, as part of the exhibition Other Waters: Art on the Manukau, Te Tuhi, Auckland 15 November 2014 - 15 February 2015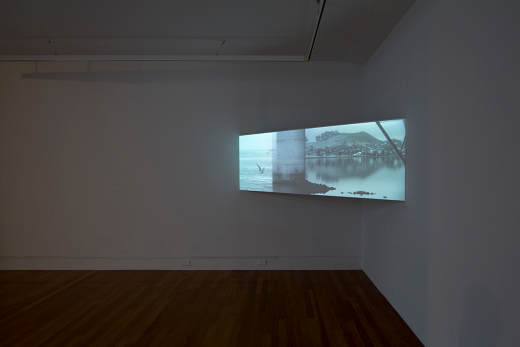 Credits:
Artist/Director: Janine Randerson
Cinematographer: Ian Powell  
Sound Design: Jason Johnston 
Boat Operators: Cedric and the Papakura Coastguard 
Dolly Grip: Jason Johnston 
Film Processing: Reversal Cine ltd, Ian Powell  
Edit Grading: Andrew Denton 
Water Quality data collection for soundtrack: Auckland Council Senior Environmental Scientists, Peter Williams and Mike McMurtry 
Film stock sourced by Mark Williams 
Acknowledgements: Jeff and Vicky Tukua, Tracy Massam, Mark Williams, Unitec Research Fund, AUT Research Fund, CIRCUIT Aotearoa New Zealand Artists Film and Video, Reversal, Auckland Council, Papakura Coastguard, Maungakiekie-Tamaki Local Board