"One of two video works from the installation God is back – pass the plate (2012), Crying in the chapel was shot in the Futuna Chapel in Karori, Wellington. The chapel was originally constructed in 1961 by the Society of Mary (Marists) for people of any faith to visit, stay, and reconnect with their beliefs. In 2000 it was deconsecrated and sold by the Marists to a property developer. The subsequent housing development built around the chapel resulted in the construction of a marginal, dislocated space; yet one that Gibbs says "still resonates with embedded institutional ideologies."

Gibbs became interested in activating the space in Futuna Chapel with a staged singing performance in order to "set up a new zone of engagement within this heterotopian space, and to experiment with ideas of dislocation and the 'out-of-timeness'".
In Gibbs' video the lead singer's slightly shabby costume is a reference to both the late, Las Vegas-era Elvis Presley (who had a US/UK pop hit with the near-hymn in 1965), and to the monk-like garb of the Marist brothers. Homemade out of an old bedspread, this costume touches on a homely, domestic connection with the now-demolished bedrooms in the old accommodation wing of the retreat centre. This gesture also references the dislocation inbetween the newly constructed 'perfect' homes and the old chapel. The backing singers' costumes from previous decades also aid in heightening the sense of dislocation and unrecoverable past." - Artist Statement
For the second screen see here [2].
Installation Shots: God is back – pass the plate, The Engine Room, Massey University, Wellington (2012)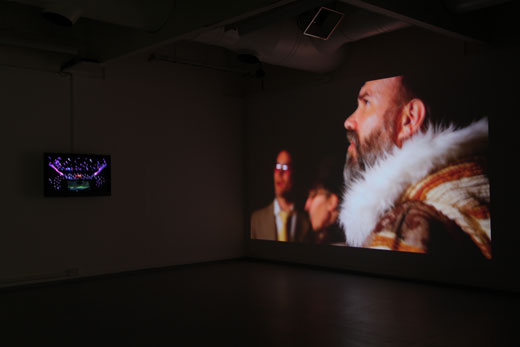 Credits:
Director/Editor: Sandy Gibbs
Camera: Nick Tapp
Lighting: Henry Williams
Sound engineer: Nick McGowan
Singer: Sam Auger
Backing vocals: Bek Coogan, Nigel Collins