CIRCUIT at Oberhausen Short FIlm Festival 2020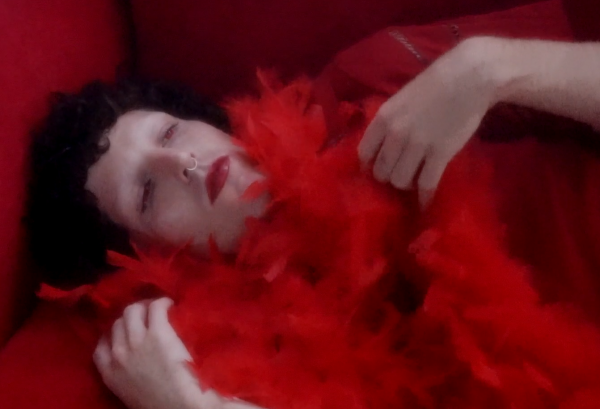 CIRCUIT presents a selection of six recent works from Aotearoa at the Oberhausen Short Film Festival, Germany. Featured artists include Zack Steiner-Fox, Ruth Watson, Seung Yul Oh, Clinton Watkins, popular productions, Oscar Enberg, Janet Lilo.
This years festival is online. CIRCUIT's 60 minute programme screens on a loop for 48 hours. To watch CIRCUIT's screening - and access over 350 international films - buy a full festival pass for 10 Euro here.
Watch CIRCUIT's screening in Europe: 17-19 May 20:00-20:00
Watch CIRCUIT's screening in Aotearoa: 18-20 May 06:00-06:00
List of Works
1) Zackary Steiner-Fox, Popular Glory (2017)
Digital Video, Sound, 5.50 minutes
"In Popular Glory the use of eerie stage-design, make-up, and costume become a site of Horror through campy self-portraiture. By making use of the formal visual cues of genre film, it steps away from a traditional narrative structure to inflict the subject with conflicting roles of perpetuator and the persecuted. That tension is evocative of the ambiguity of queer characters in the history of horror movies who serve as stand-ins for a faint violence and pitied outlaw." - Artist Statement
2) Ruth Watson, Unmapping the World (2017)
Digital Video, Sound, 8.51 minutes
Unmapping the world takes Watson's family history and connection to the Canterbury region as a starting point to delve into the societal complications caused by global mobility, immigration and colonisation
3) popular productions, third revision (2015)
8mm, Digital Video, Sound, 15.59 minutes
An experimental essay film shot in shot in New Zealand, Berlin & Warsaw. featuring material shot at sites including Warsaw Archives and Pawiak Prison c.2000. Featuring a collection of video and film footage, third revision openly fluctuates between blur and displacement of image and focus; often the images are re-filmed off the computer screen and are further 'corrupted/compromised'.
Audio: Upright Piano reworked from an electronic composition by Samuel Holloway and et al previously created for the exhibition Parekowhai, Hollaway, Henis et al. Michael Lett, Auckland, 18 April -25 May 2013.
4) Clinton Watkins & Seung Yul Oh, Hondon (2017)
Digital Video, Sound, 12.41 minutes
Visually abstract but accompanied by a score that follows it's every tonal shift, Hondon draws the viewer into a tense alignment of colour, particles and time.
5) Oscar Enberg, Red Beryl and Crocodile, Opal (Irrational Exuberance in the White Man's Hole) (2017)
Digital Video, Sound, 22.00 minutes
In the Opal-mining town of Coober Pedy desert temperatures force residents to live underground in emptied out ex-mine shafts–- the town's name is from the indigenous language; "kupa piti" translates to "white man in hole".
6) Janet Lilo, Untitled (2019)
Digital Video, Sound, 4.31 minutes
Janet Lilo's Untitled (2019) takes as its' central motif a tree, photographed through the seasons. Together with the sound of a school haka performed by children, and the image of a fire, the work quietly reflects on the disbanding of one home and the creation of another.