Sometimes a kiss is... not just a kiss (2 of 2)
2 of 2 videos from an installation consisting of videos, sculpture, and pink imitation-satin curtains. See other video here.
"Perched atop an almost-invisible gyrating mechanical bull, the two protagonists are slowed down and accompanied by Hayden's Cello Concerto (No.2 in D major) with Jacqueline du Pré on cello. Like the unseen cello, the mechanical bull is held firmly between the legs of the performers.
Playing on a wall-mounted monitor on the opposite wall is a split screen video consisting of a montage of film footage that conflates and problematises notions of mediatised masculinity and femininity.
Powder pink satin curtains bathe the gallery in a soft pink glow. And on the floor is a piece of furniture – or is it? An upholstered pink pouf with a gurgling water fountain serenely ejaculates in time with the music. It's pretty and alluring but try sitting on it – you want to, but you can't without getting a wet patch" - SG
Essays:
Powder Pink and Sky Blue Dreamland by Rob Garret
Sometimes a kiss is… not just a kiss by Thomasin Sleigh
Installation Shots: Sometimes a kiss... is not just a kiss. Enjoy Gallery, Wellington (2006)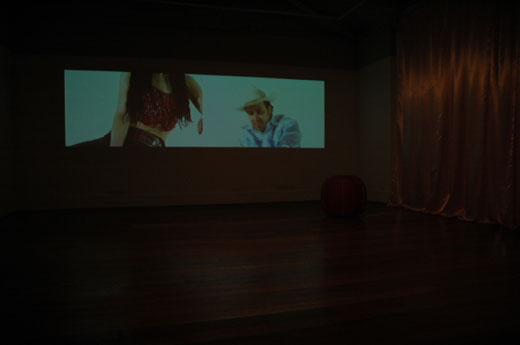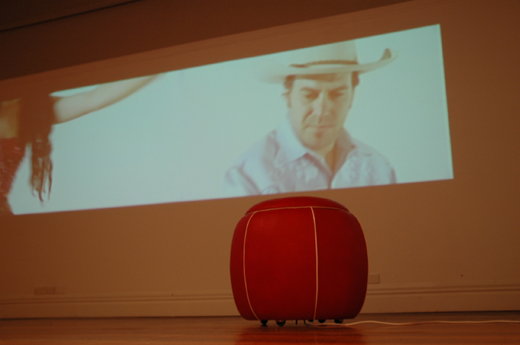 Credits:
Installation credits:
Video
Director/Editor: Sandy Gibbs
Camera: John Dazeley
Lighting: Ryan O'Donnell
Bull riders: Sam Auger and Liz Evans
Bull hire from PromoKing, Palmerston North (with thanks to Sue and Tony)
Soundtrack: Haydn's Cello Concerto No.2 in D Allegro Moderato (1783) played by Jaqueline Du Pre
Found footage
excerpts from The Deerhunter (1978), The Ride (1997), The Swimmer (1968), Pumping Iron II – The Women (1984), Tokyo Olympiad: The Olympic Games, Tokyo (1964), and my mother's 'stag' fireguard
Pouf with water fountain
Wooden construction assistance: Chris Williams
Upholstery by The Upholstery Craftsman, Newtown, Wellington
Water pump from California Garden Centre (with thanks to Kevin)