Movement on the Margins: BFI London Film Festival – Experimenta 2017
Anyone who commits themselves to thinking about artists' moving image commits themselves to a lifetime of asking the same questions over and over. Questions of belonging, of meaning, of intention – what are these images, how do they work, who are they for, where do they come from, where do they fit in? Curated exhibitions or programmes of artists' cinema or moving image works often attempt to answer these questions, but film festivals like Experimenta, the strand within the BFI London Film Festival devoted to experimental film and artists' moving image, operate differently. Unconstrained by explicit thematic, historical, or geographical focuses, the programmers of the Experimenta section (Ben Cook, Helen De Witt, and William Fowler) are free to leave the questions that shape the field of artists' moving image unresolved by presenting an enormously broad cross section of contemporary work.
This resistance to normative curatorial strategies is manifested as a pervasive sense of marginality or alterity, both in terms of the festival environment and the films and videos shown. Absent a guiding thematic core (other curated strands in the festival are given titles like 'Love', 'Dare', 'Journey') or the structure of a competition (as with the short film competitions at festivals in Rotterdam and Oberhausen), the experience of watching the Experimenta programme can be disorientating. Yet marginality suits most of the works shown, which, either in form or content, diverge sharply from the mainstream offerings of the rest of the festival. The decision not to provide a 'curated' context for the works means that each must be approached fresh, and that new and unexpected connections emerge over the course of the festival.
This connectivity is one of the great strengths of this approach to programming that makes Experimenta a valuable part of the ever more crowded calendar of festivals, fairs, and biennials that compete for audience attention. By capturing a careful selection of works from exhibitions like documenta and festivals like Locarno and CPH:DOX, and attracting a number of new premieres, the programme comes together like a series of snapshots whose organizing principle is masked by the diverging curatorial tastes of the programmers and the sheer variety of the works themselves. A series of events running alongside the screening programme provides points of entry – this year, a symposium on artists' film in Asia, and a number of conversations between featured artists or filmmakers – but these events themselves seem to conform to the deliberate shapelessness of the festival as a whole. Even in the case of the symposium, the speakers, representing initiatives from India, Indonesia, and Vietnam, refused to be corralled into the fictive construct of 'Asian artists' moving image', insisting instead on specificity and individuality, and uniting only around a sense of marginality and the shared practical difficulties that this entails.
The running time of majority of the works programmed in Experimenta also differentiates them from typical gallery-based presentations of artists' moving image. While gallery-goers are notoriously reluctant to engage with film and video for longer than a few minutes at a time, Experimenta makes the most of its cinema setting to present mid- and feature-length works. The 'artists' feature film' has long been a key interest of the festival, an elusive yet evocative concept that unites extraordinarily ambitious large-scale productions and the familiar singularity of experimental cinema, situated (at least by the festival programmers) outside the realm of independent narrative film or documentary practices, but appropriating, questioning, and challenging the dominance of those forms of filmmaking.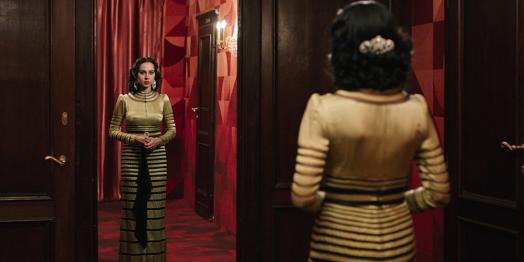 Still from Looking for Oum Kulthum (2017) by Shirin Neshat
Shirin Neshat's Looking for Oum Kulthum (2017), a self-reflexive film about the creation of a biopic of Egyptian singer Oum Kulthum, represents one end of this spectrum between (the ideas of) mainstream and experimental cinema. The lavishly produced film is cosmetically no different to many of the offerings in other strands of the festival and, with its film-within-a-film conceit, draws attention to the ways it approaches conventional feature filmmaking. In doing so, the work explores the representation of Muslim women in both historical and contemporary contexts, each informing the other as the characters and layers of the film overlap and the boundaries of the work seem to dissolve. The film's form is largely dictated by its content, leaving Neshat free to focus the narrative more intensely on the complex relationships between director, actress, and icon, continuing the artists' ongoing interest in female expression in the Muslim world. As such, while the film may not look experimental, its politics in context reveal what is at stake in the film, and why as an artistic gesture it sits within the Experimenta strand, not merely straddling a margin between art and cinema but turning the very idea against itself.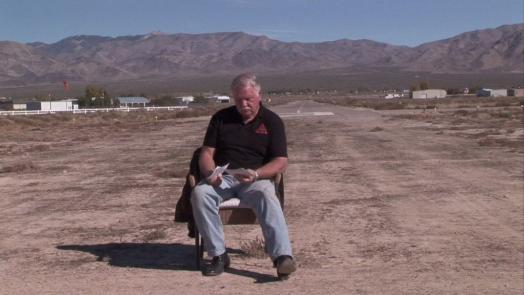 Still from Erase and Forget (2017) by Andrea Luka Zimmerman
Similar may be said for Andrea Luka Zimmerman's long-gestating Erase and Forget (2017), a portrait of Vietnam veteran, gun rights activist and former presidential candidate 'Bo' Gritz, the real-life inspiration behind Stallone's Rambo. As with Neshat's film, a slick surface belies a much more subtle and complicated approach to the film's subject. As his brief biography suggests, Gritz's political views skew far right, while Zimmerman is both an artist/filmmaker and cultural activist involved in housing and social justice. The tension between the two never becomes explicit but remains nonetheless; Zimmerman's verité approach gives Gritz the opportunity to play to camera and self-mythologise in a way that more conventional documentarians may be more likely to temper or mitigate in some way. But Zimmerman's interventions are relatively minimal – a handful of reenactments of scenes Gritz is said to have inspired, as well as clips from those films and TV shows themselves, with archival footage and interviews contextualizing certain historical or cultural events – and the result is far deeper than simply a film portrait. The sustained attention of the camera gradually exposes the contradictions of contemporary American society by placing such a complicated figure at the centre of the film and allowing him to situate himself within (or against) structures of violence, masculinity, and morality, implicitly asking at what point these structures break down. 

Still from Speel Reel (2017) by Filipa César

Where Zimmerman's approach to documenting the historical and cultural conditions of present-day crises seems to mimic or adopt certain conventions of mainstream (documentary) cinema, Filipa César's Spell Reel (2017) and Narimane Mari's Le Fort des Fous (2017) proceed from the recognizable conventions of ethnographic and documentary artists' moving image to explore the legacies of colonialism, displacement, war, and violence. Spell Reel is a reflection on the relationship between history and the moving image via the revolutionary cinema of Guinea-Bissau. A number of filmmakers, trained in Cuba at the direction of revolutionary leader Amílcar Cabral, documented the war of independence (1963-74), but much of this footage is lost or at risk. César has for years been working to restore and preserve these films, and her film visually underlines the importance of this work in the present moment, bringing the original 16mm footage into contact with digital images and text signaling the profound value of a radical cinematic praxis for cultural identity and independence. The centerpiece of the film is a 2014 'mobile cinema' screening in which the original filmmakers played their footage at makeshift outdoor cinemas for Guinea-Bissauan communities, drawing together cinema and the moving image with oral history and social memory. Le Fort des Fous, a sprawling three-part work, draws a line from the French colonization of North Africa to the refugee crisis facing Europe, Africa, and the Middle East. Shifting from playful yet pointed reenactment to a surrealistic staging of the travels of a refugee society, and ending with an expansive series of conversations about the structural forces that have shaped our current crises, the film unfolds questions of power, history, and mythology through a loosely structured 'story'. Both Spell Reel and Le Fort des Fous benefit from the sustained, focused attention called for by the cinema space (as opposed to the gallery, where such works typically loop or play at intervals), drawing out complicated histories via a series of artistic or experimental tactics that set them apart from the more conventional documentary approaches represented in other strands of the festival.
While the films mentioned above represent only a small selection of the full Experimenta programme (which also featured recent work by Superflex, Basma Alsharif, Moyra Davey, Chen Zhou, and more), they are exemplary of what seems most at stake in a festival like Experimenta – the ongoing question of the relationship between dominant cinema and its alternatives, of where artistic production sits in relation to industries and institutions, of how best to engage with an ever more diverse field of moving image production. Experimenta does not take the concept of artists' moving image as a given but, with each passing edition, puts forth a new proposition for what it could be or become. At a moment when discussions of power in the worlds of art and film have become absolutely vital, Experimenta (and festivals and initiatives like it around the world) serve as reminders to constantly look, and look again, at the structures of power and dominance that shape the world today.