C:R.U.R.T.\chatback\a digital lemon\2000
After the TVNZ arts programme Backchat was canned in 1999, Urbahn offered them a final clip. C:\R.U.R.T\chatback\a digital lemon\2000 (2000) featured Urbahn in the role of criminal, being interviewed by television reporter Mark Crysell. With his face obscured and a shaved head Urbahn recounted a parallel life of cult practices including kidnapping, murder, drugs and voodoo. Urbahn's piece was rejected by the broadcaster.
Installation Shots: Sleep debt, Penthouse & Pavement, Melbourne 2001.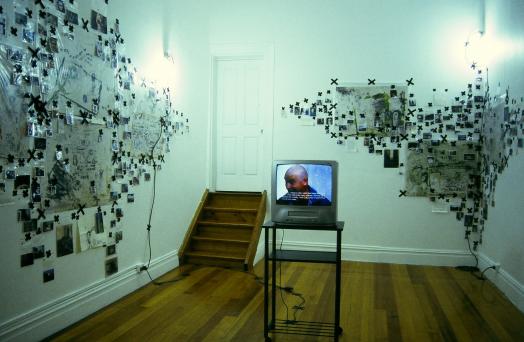 Photo Credit: Terry Urbahn. 
Exhibited: Prospect 2001 - new art New Zealand, (Commercial in Confidence, installation), City Gallery, Wellington, 2001. 
Credits:
Interviewer: Mark Crysell