ECHO LOGO
Description: Single channel digital video and audio installation
Exhibition mode: Large projection (approx 2-3 metres wide, see image below) / Large LCD screen (55" approx). Looped.
Media details: Apple Pro-res 422HQ Digital file. Ratio: 16:9. Stereo audio
Note: Stand-alone video; or with selection/complete works from the series Polar Projects
A sound-echo performance under the 30 metre high ice-face of the Canada glacier, located in Taylor Valley, Dry Valleys, Antarctica. The event consists of simple performer tasks - walking cycles, voice shouts and stone bangs producing echo-effects off the glacial ice-wall. The event was realised at 00.30am, with the assistance of an 8 member research team based in the valley during the summer phase of continuous daylight. 
Installation Shot: ECHO LOGO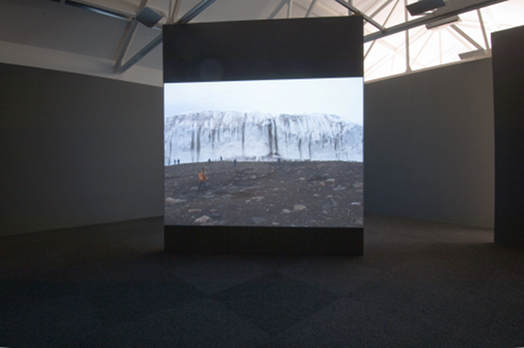 Credits:
Echo Logo performed by Bu Windsor, Ian Whiteley, and the K024 Science team; Allan Green, Liam Nolan, Roman Turk, Leo Sancho, Burkhard Beudel, Hans Reichenberg. Canada Glacier face, Taylor Valley, Antarctica, 24.1.2003
One in a series of 8 works entitled Polar Projects, filmed in Antarctica (2003), produced with the support of Antarctica NZ and Creative NZ Arts Council of New Zealand Toi Aotearoa. Polar Projects was nominated for The Walters Prize (2006). Collection of the Adam Art Gallery, Wellington; Collection of the Auckland Art Gallery.
Selected Exhibitions: Difference Screen, Europe/Asia tour (2013), Tapping the Pulse Philip Dadson works 1971-2004, New Zealand Film Archive, Wellington (2005)