Flutter
Description: Single channel digital video and audio installation
Exhibition mode: Large LCD screen or projection (see image below) Looped.
Note: Stand-alone video or with selection/complete works from the series Polar Projects
Media details: Apple Pro-res 422HQ Digital file. Ratio: 16:9. Stereo audio
Sonic kinetics of a solo red-flag on a bamboo pole in a ripping 60k wind on Arrival Heights, near Scott Base. Visual detail is gradually warped and colourised during three repeating sequences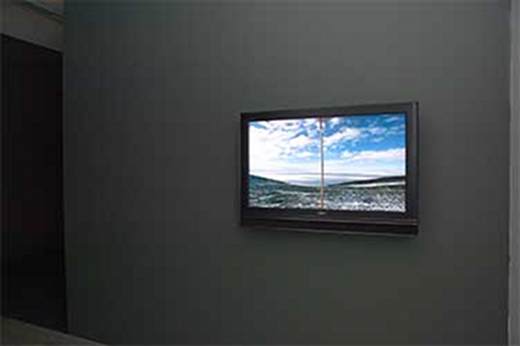 Credits:
One in a series of 8 works entitled Polar Projects, filmed in Antarctica (2003), produced with the support of Antarctica NZ and Creative NZ Arts Council of New Zealand Toi Aotearoa. 
Polar Projects was nominated for The Walters Prize (2006). Collection of the Adam Art Gallery, Wellington.
Dedicated to Apsley Cherry Garrard.
Selected Exhibitions:
Tapping the Pulse, Philip Dadson works 1971-2004, New Zealand Film Archive, Wellington (2005)