Sadie Wrestling 2
Sadie Wrestling showed Galloway in a mock wrestling bout with his 6-month old daughter Sadie. Sadie Wrestling 2 repeats the exercise every 6-months through Sadie's first few years. Galloway pictures his daughter growing up in this most absurd of contexts. Riffing on the same politically incorrect issues that informed Sadie Wrestling, the sequel's longevity also adds some metaphorical weight to what a parent daughter relationship might entail.
Installation Shot:
Sadie Wrestling II
, from the exhibition
mumbling through to the chorus
. The Engine Room Gallery, Wellington, 2007. Accompanying wall-drawing Bryce Galloway. Curator Kim Paton.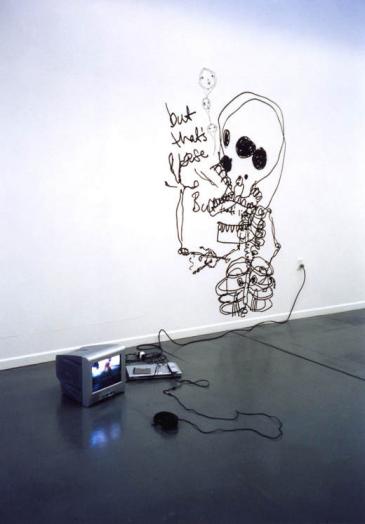 Credits:
Bryce Galloway with:
Camera: Jakki Newton
Music: New Zealand
Performers: Bryce Galloway and Sadie Galloway
Technical support: Mike Heynes