Sometimes a kiss is... not just a kiss (1 of 2)
"Sometimes a kiss… is not just a kiss is a visually seductive body of work: fetishistic, slippery and elusive, as it manoeuvres its way through the peripheral zones of overlapping gender codes, counter colonisations and the destabilisation of boundaries between notions of masculinity and femininity." - Artist Statement
1 of 2 videos from installation consisting of two videos, a sculptural object, and pink imitation-satin curtains. See other video here.
Installation components:
1. Single channel, split screen, HD video projection. Sound. 16 minutes 50 seconds, for continuous loop
2. Single channel, split screen, SD video, played on wall-mounted flat screen monitor. Silent. 3 minutes 10 seconds, for continuous loop
3. Eroticised pouf object with water fountain
Essays:
Powder Pink and Sky Blue Dreamland by Rob Garret
Sometimes a kiss is… not just a kiss by Thomasin Sleigh
Installation Shots: Sometimes a kiss... is not just a kiss. Enjoy Gallery, 2006.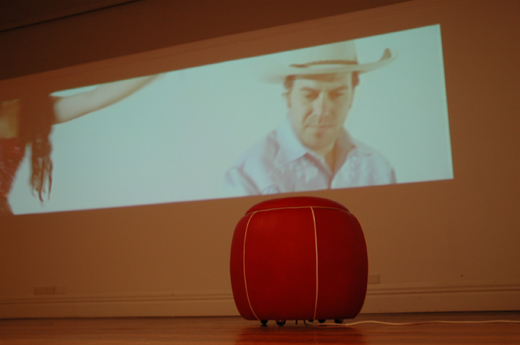 Credits:
Montage of 'found footage' consists of excerpts from: The Deerhunter 1978 (Dir. Michael Cimino), The Ride 1997 (Dir. Michael O. Sajbel), The Swimmer, 1968 (Dir. Frank Perry) Pumping Iron II – The Women 1984 (Dir. George Butler) Tokyo Olympiad: The Olympic Games, Tokyo 1964 (Dir. Kon Ichikawa) and my mother's 'stag' fireguard.