Terra Incognita
Description: Three channel digital video and audio installation.
Exhibition mode: Three x LCD Screens or Projections. Central large screen flanking two smaller screens. Looped. Non-Synchronous. 2 channel stereo audio direct from monitors or via external speakers/mixer in consultation with the artist. 
Media details: SD Digital File. Ratio: 4:3
Note: A stand-alone or ensemble work in the series Polar Projects.
An ironic take on the magnetic attraction of the 'ice' for adventurers; explorers, artists, scientists alike. Filmed in Antarctica 2003.
The central screen is haunted by a looming shadow, the two flanking screens depict imagery shot in the interior of Scott's hut on the edge of McMurdo Sound. National anthems (of nations represented on the ice) waft through ice-crunching sounds of trudging through a brittle ice-scape.
Installation Shot: Terra Incognita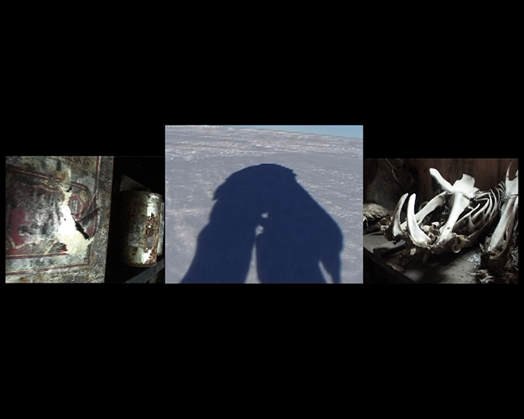 Credits:
One in an ensemble of 8 works videoed in Antarctica entitled Polar Projects (2003). Produced with the support of Antarctica NZ and CNZ Arts Council of New Zealand.
Polar Projects was nominated for The Walters Prize (2006).
Selected Exhibitions:
Breaking Ice: Revisioning Antarctica, Adam Art Gallery, Wellington (2005) / Southland Art Gallery (2006)
45o Below, Forrester Gallery, Oamaru (2005/06)