In this conversation curator Leo Koziol (Ngāti Kahungunu, Ngāti Rakaipaaka) and artist Suzanne Tamaki (Ngāti Maniapoto, Tūhoe) discuss two recent projects, Manu does Matariki and Cuisenaire.
Displayed on Wellington public art space Masons Screen in July 2022, Manu does Matariki is the latest in Suzanne Tamaki's series of videos featuring "Manu—the fantastic plastic Māori". On this occasion Manu is presented "wearing a designer Matariki frock". The work was curated by Leo as CIRCUIT's 2022 Matariki curator.
Cuisenaire is an exhibition by artists Kahukuranui and Suzanne Tamaki running from 13 July—7 August at Auckland's Pah Homestead. Featuring works by Suzanne and Leo, Cuisinaire addresses the history of colonisation by word and media, and the decolonisation by kōhanga and whakaata.
In this interview, Leo and Suzanne begin by discussing the evolution of Suzanne's iconic Manu doll, the use of animation and finding Taonga "around the house".
Leo Koziol: Where did the idea for Manu the fantastic Plastic Maori come from?
Suzanne Tamaki: Manu came about during my Masters of Fine Arts at Massey University. The initial idea came from Gingerbread, the cat that comedian Tom Sainsbury does. He's that sarcastic cat who's really mean, eats native birds, and wants to kill his owners, he's hilarious. I thought, "That is really funny. I've got a really annoying cat that lives next door that has probably got a lot of things to say about me, and about its owner." I got an app to make the cat talk, and then I thought, "Oh my God, I could make Taonga talk". I started working with Te Papa to look through their collections to find Taonga, and find out how we could tell their stories or they could tell their own stories about who they are. I was doing this as part of my studies and part of my research. Then we went into lockdown. I was stuck at home, and thought, "Oh, what Taonga have I got around the house?" and tah-dah, Manu.
She became kind of the centerpiece of Talking Taonga. But there's also work around statues. Black Lives Matter had hit the stage, there was a bunch of statues that were being pulled down. Then when the statue of Hamilton got removed, I was thinking, 'Oh Kirikiriroa we've got our own statue kōrero here happening in Aotearoa, we need to tell those stories'. But we need to tell them in a way that's really short and succinct, and also engaging without making people feel like they're listening to a lecture. More that they're watching something semi-entertaining and educational.
Leo Koziol: Was Manu born before the lockdown or during the lockdown?

Suzanne Tamaki: During, because I was stuck at home and couldn't get to the museum to access the collections. For six months I was in my house, looking at my own Taonga. She came out of that, and I had time to make her costumes and stuff. What else is an adult going to do? Play with dolls and make them talk.
Leo Koziol: What was the reaction on social media to Manu?
Suzanne Tamaki: Huge, bigger than I thought it would be. I was surprised how much people embraced her, and then I realized I'd given her a personality. It was this funny crack-up Māori doll who's a little bit cheeky and rude, but also very intelligent.
I think what's happened, is that they think that she actually is a real person, almost, like when you get attached to cartoons. She's got this little fan base, which is really cute.
Leo Koziol: Is Masons Screen the first time that she's been exhibited in an artistic sense?
Suzanne Tamaki: No. Whakatāne Museum picked up all the Talking Taonga videos. Then it got picked up by Pātaka, for (the exhibition) Mischief Makers. That was all the existing work that I had done for school. I did an extra one for Te Wiki o Te Reo Māori, about the naming of Aotearoa.
Leo Koziol: They're all quite short and succinct. What's your strategy to engage people within that little hook of time?
Suzanne Tamaki: The difficult part is trying to condense history. For the statues, for example, I'm trying to talk about Governor Gray and condense that into a minute-long history lesson. For things like Manu, when you choose, say Māori language week, what stands out for me is; do you want to speak te reo, do you want to talk about the history of it, or do you just want to have a kōrero around what it means to you? And just like I said, keep it really short, snappy and put some humour in there.
Leo Koziol: Does anyone not get the humour and think Manu's not being ironic?
Suzanne Tamaki: So far, no. There hasn't been anything negative, which is really interesting. It's all been really positive. And if you go through all the FB comments, it's all "We love you Manu, you need to do more Manu". I've even had some of the ladies from work, come down and talk about how much they love the work on Masons Screen and how different it is to everything else that they've seen on there. And that it's highly amusing, which is good. That's what you want, you want fun.
Leo Koziol: Were (there any) adverse reactions on social media?
Suzanne Tamaki: No.
Leo Koziol: No racist comments?
Suzanne Tamaki: Nothing. I don't know if that's because its the people who are my followers who have shared it or are watching it. Maybe it isn't going outside that. But it's been into museums and galleries and it hasn't had any negative reports either. It's because she's funny. It's that thing where you can laugh at yourself or you can laugh at Māoris, but "Oh, you're just laughing at a doll. She said it, you didn't say it, it's not racist."
Leo Koziol: So tell us a little bit about the Masons Screen project.
Suzanne Tamaki: I went down and looked at the site. It was in the middle of some stairs, and people were just using it as a thoroughfare. They weren't stopping to look at the video. So I wanted her to interact with the people who were passing by or try and catch their attention. And I was thinking, "What are people wearing in Wellington when they're walking around in the middle of winter?" I thought she could do some random fashion comments, a little bit of singing and just have fun on a winter day and surprise people. And she has been, which is great. Except for one of my work colleagues, apparently her boot broke or something and she ended up stuck there. She sprained her ankle and she was sitting there. Every time it looped and said "What are those ugly boots you are wearing? They don't belong in the city" she said she felt like she was being abused.
Leo Koziol: You may have to put a disclaimer underneath the artwork. Oh my goodness.
Leo Koziol: So we are also doing an exhibition in Auckland at the Pah Homestead, Cuisenaire. (1) I can talk a bit about this one. The strangest thing is that it comes from the conversation I had with Hineamaru Ropati who is the chairperson of the Papatūānuku Mārae in Mangare. She was talking about how we were colonized through the air. That kind of baffled me. I was like, "Well, no, we were colonized through the land because they came on boats and they took our land and we were colonized on the sea because they were on those boats and they were on the sea." And then they physically came into our space with invisible things like the blankets (which) had germs. But the guns and the bullets were pretty visible.
But now all of a sudden people were flocking to the pictures, and they all were in English and they all had American accents. They didn't even have New Zealand accents. They weren't at all about New Zealand.
And then with the arrival of the wireless radio and television coming through the air, you had this whole colonization process. So I was fascinated by the image of the test pattern of the television and how do we reclaim that? So this artwork that's going to be on display at the Pah Homestead is the test pattern we imagined as Manu TV. She has her own television channel and it's on a gigantic screen, but we don't need it to be HD 1080p. We actually wanted to look like an old television -
Suzanne Tamaki: — and some crappy old animation.
Leo Koziol: Some crappy old animation.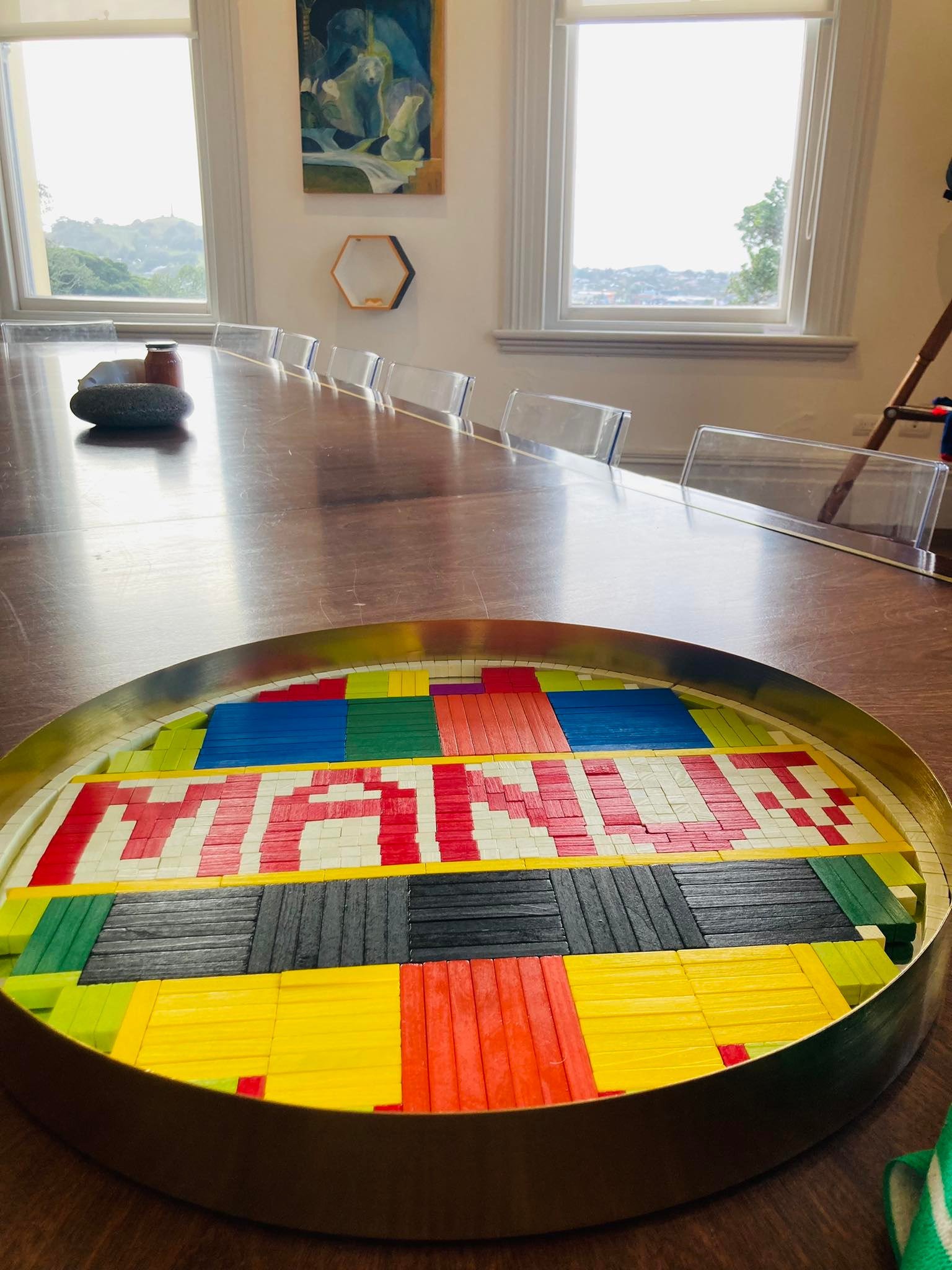 Leo Koziol: Tell us about your take on this whole kaupapa (for this project).
Suzanne Tamaki: To be honest, you gave me some guidance on that and where you saw it going, when you sent me the speech from Winston Churchill ["We will fight them on the beaches…!"]. And I thought, 'Oh, that's actually a really strong speech, but how do I apply that to our culture and how do I include the cuisenaire rods?'.
For me it made sense that it would be around Tahi, Rua, Toru, Whā and making the counting part of the dialogue. I spoke to Whirimako Black about it, and she was telling me about the people who had created the cuisenaires. She remembered them at kohanga and I thought, how wonderful there are all these Māori wāhine have this connection and memory of cuisenaires. And then when I was talking to some younger Maori artists about it, they didn't know that's what they're called. I didn't know that.
Because you'd given me that speech, which I really loved, I thought 'I'm going to tailor that' and use counting. But that speech is very political. So I'm not sure how the audience is going to react, as opposed to something where it's a little more lighthearted. Even though inside that lightheartedness there's also some truth and a history lesson. So it'll be interesting to see what the response is. You'll soon find out.
Leo Koziol: There will be a whole lot of cuisenaires on display. And I acknowledge all of the other artists, Michael Parekowhai in particular, who really honours the cuisenaires and creates them into new artistic art forms. But actually the Native American artist that I'm honoring is Steven Paul Judd. He made a portrait of one of the Native American heroes out of Rubik's cubes, which is an incredible artistic achievement. So, in some ways it's a commentary on pop culture and on art and image. I'm not trying to be the next Michael Parekowhai, but I acknowledge the mahi he's done to honor the Ataarangi movement. How they utilise the cuisenaires to really revitalize te reo is something that I'd like to honor as well. But at the same time, this is in a different space. It's really focused around the commentary around media and colonisation and decolonisation and where we are in 2022.
Suzanne Tamaki: I had the pile of them on the table because I was doing Manu's outfit. And they were sitting on the lounge room table, dining table and my flat mate who's Samoan came in and she asked me what they were. So she didn't know. And I was thinking, 'Gee as a Samoan, this could actually be something that's really helpful for your language nests. This is something that you could be using as a teaching resource for your people in the same way that we have'. So maybe there's also a generation of Maori and New Zealanders that don't know what they are.
Leo Koziol: Yes. That is definitely the case. And I'm definitely of the generation where it was popularized and utilized. Whereas I don't know if kohanga reo used it very much.
Suzanne Tamaki: No you're right, it was Te Ataarangi.
Leo Koziol: What's next for Manu?
Suzanne Tamaki: She's going to be part of the Melbourne Fringe Festival. It might be a different iteration. We are looking at augmented reality as opposed to doing something on video. You have to go around Melbourne and find her. And then she's going to Vegas in August.
Leo Koziol: Vegas or Rotorua?
Suzanne Tamaki: Both. She's going to Hawaii and then she's going to Vegas. I'll get some shots of her in some of her favourite spots.
Leo Koziol: Nice. Is there anything else that we've missed?
Suzanne Tamaki: I think the good thing about Manu, it's about being playful. With art as well, maybe (it's about) not taking it too seriously, especially as Māori artists. Sometimes it can be too intense.
Leo Koziol: Oh, Manu did have a very special guest appearance as 'plastic Māori-in-residence' at the Wairoa Maori Film Festival high tea. And that was perfectly apt because she put on her best frilly, sparkly frock, and held court over the Māori film community in our Mārae in Nuhaka. So I just wanted to pass my thanks onto Manu for her wonderful appearance. And she was there in person too, I recall.
Suzanne Tamaki: Yep. She was there in person and she's put up a couple of photos on her Instagram page with Nuhaka Marae and also advertising the local hotel where she stayed. One of her favorite moments was the Auntie's laughing about the slipper joke and also lots of people taking selfies with her. She enjoyed herself.
Leo Koziol: Well long may Manu continue. Long may art that embraces serious subjects, but is able to embrace the lightness continue. And long may Manu continue to reign and long may you continue to do what you're doing, Suzanne. It's been a privilege to talk with you on behalf of CIRCUIT and this will be transcribed and be made into an interview. Yay for us.
Suzanne Tamaki: Awesome. Thank you Leo.
Leo Koziol (Ngāti Kahungunu, Ngāti Rakaipaaka) is CIRCUIT's Matariki Curator. Suzanne Tamaki (Ngāti Maniapoto, Tūhoe) is an artist and social provocateur.