Camille Henrot: Grosse Fatigue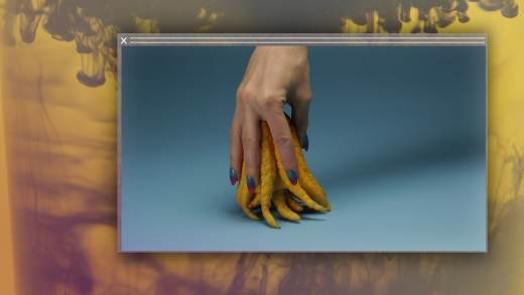 New York-based French artist Camille Henrot works across sculpture, drawing and video. 
This programme of recent film and video works explores the connection of the artists' studio to the museum, the evolution of culture and systems of knowledge, drawing on anthropology and social archaeology.
The screening features Grosse Fatigue (2013), an ambitious video that attempts to tell the story of the universe's creation from a computer desktop and using the collection of the Smithsonian Institute in Washington DC. Grosse Fatigue was awarded the Silver Lion at 55th Venice Biennale. 
Earlier works such as Egyptomania (2009) and Cynopolis (2009) explore the cultural fascination of ancient Egypt. Million Dollars Point (2010) and Coup/Decale (2010)reflect on the complex history of the South Pacific nation of Vanuatu. A portrait of visionary architect Yona Friedman seen through his apartment in Film Spatial (2007) provides an intimate counter point to The Strife of Love in a Dream (2011), a reflection of the relationship between Europe and India and the problematic allure of distant lands.
Camille Henrot: Grosse Fatigue is curated and presented by George Clark (Tate Modern). The screening is presented as part of Locating the Practice: Exhibiting Artists' Moving Image, a symposium presented by CIRCUIT Artist Film and Video Aotearoa New Zealand in association with Elam School of Fine Arts at the University of Auckland with the support of Creative New Zealand.
Led by George Clark, Locating the Practice reflects on the history and practice of moving image and its exhibition via screenings, discussion and presentations from local and international speakers. Locating the Practice is the second annual symposium presented by independent arts agency CIRCUIT Artist Film and Video Aotearoa New Zealand. Founded in 2012 and supported by Creative New Zealand, CIRCUIT supports local artists working in the moving image through distribution and commissioning of works, critical review and professional practice initiatives.
For more information on Locating the Practice: Exhibiting Artists' Moving Image see http://circuit.org.nz/locating-the-practice
Camille Henrot: Grosse Fatigue
Friday 15 August 7pm
Academy Cinema
Tickets $10, door sales only
Locating the Practice: Exhibiting Artists' Moving Image
Saturday 16 August 10am-5pm
Elam School of Fine Arts
$40 waged / $20 unwaged
60 seats only - register director@circuit.org.nz
For more information contact: Mark Williams director@circuit.org.nz
Image caption: Grosse Fatigue, 2013, © ADAGP Camille Henrot.
Video (color, sound), 13 minutes.
Courtesy the artist, Silex Films and kamel mennour, Paris.circuit