New Materials. New British Artists' Video - with work by Elizabeth Price, Ed Atkins, James Richards & Laure Prouvost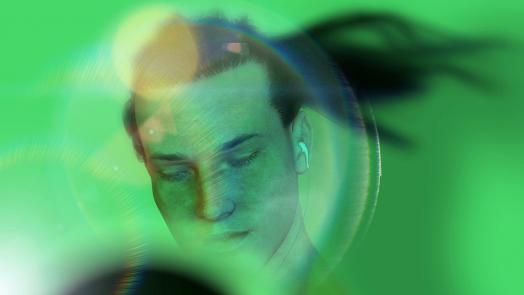 Four works representing a new sensual engagement with HD, digital and convergent technological histories in British artists' video. Introduced by Benjamin Cook, Director, LUX (UK).
Screening presented by CIRCUIT Artist Film and Video Aotearoa New Zealand, City Gallery Wellington and LUX, London. With the support of the British Council and Creative New Zealand.


Woolworths Choir of 1979 - Elizabeth Price (2012, 18 min)

Comprising three parts, the video brings together distinct bodies of material into a dissonant assembly; photographs of church architecture, internet clips of pop performances and news footage of a notorious fire in a Woolworths furniture department in 1979. The video weaves together existing archives of text, image and sound to create a work that drifts between social history and fantasy. 

Warm Warm Warm Spring Mouths - Ed Atkins (2012, 12 min)
Atkins' shifty, protean protagonist is not so much undercover as in too deep – his identity hidden; his body immersed and submerged. Sleeping with the fishes in his luminescent vacuum at the bottom of the ocean, he is the unquiet voice of the repressed, the face of the unfathomable (albeit a face that is framed and sometimes lost behind its mass of tangled, swirling hair). Netted by digital motion capture techniques, and embellished through computer animation, the slipperiness of truth and the difficulty of its representation are vividly entwined in this image, lending Atkins' investigations a material, almost forensic resonance. Animators speak of the rendering of hair as the final frontier (and the elusive grail) of computer graphic verisimilitude. Get it right and your character is immediately believable. Get it wrong and it is an instant, incriminating giveaway.
Atkins' figure drifts deliberately between the two: fitfully surfacing like a nagging subconscious memory, a foreign body floating up from the depths. As with all of Atkins' work, however, that frisson of indeterminacy lingers indelibly, haunting and troubling the mind.
 Commissioned by the Jerwood/ Film and Video Umbrella Award. 

Not Blacking Out, Just Turning The Lights Off by James Richards (2012, 17 min)
'The video examines the role of intimacy in relation to desire and physical proximity. Using images and sounds that are surrogates for the liquidity or porosity of the body, of being inside and outside, it slips between the sensual image and its abstraction' Isla Leaver-Yap 

Wantee by Laure Prouvost (2012, 15 min)
Laure Prouvost created a dark muddy room at Grizedale Arts, which formed the setting for this video work which was originally presented as part of the exhibition at Tate Britain on the legacy of Kurt Schwitters. The room is conceived as the living room of Prouvost's fictional grandfather. This invented relative is described as a conceptual artist and one of Schwitters's close friends. Prouvost's
work draws upon the dual aspect of Schwitter's work – his celebrated Merz works, as well as his conventional portraits and landscapes. The room also shares the features of a tea room, inspired by Schwitter's companion's nickname, Wantee, due to her habit of asking, 'want tea?'
Presenter Bio: Benjamin Cook is director of LUX, London. LUX is a London-based international arts agency that exists for the support and promotion of artists' moving image practice and the ideas that surround it. LUX is the largest distributor of artist moving image work in Europe (representing 4500 works by approximately 1500 artists from 1920s to the present day).
Artist Bios
:
Elizabeth Price (b. Bradford, 1966) lives and works in London. She received a Bachelors Degree in Fine Art at the Ruskin School of Art, Oxford University in 1988, and then an MA in Fine Art from the Royal College of Art in 1991. In 1999 Price completed a PhD in Fine Art at the University of Leeds. In 2004 Price won the Jerwood Artists Platform Prize. Between 2004-6 she was Research Fellow in Fine Art at London Metropolitan University and in 2007 was awarded the Stanley Picker Fellowship at Kingston University. Price won The Turner Prize 2012. 


Ed Atkins (b. 1982, UK) lives and works in London. graduated with an MA from the Slade School of Art in 2009. He was selected for New Contemporaries in 2010. In 2011 he was included in the group exhibition 'Time Again' at Sculpture Center, NY; co-organised 'A Dying Artist' at The ICA, London; was shortlisted for the Jarman Award, and had a solo show at Cabinet Gallery, London. He has been commissioned by Frieze Film and Channel 4, and had a solo presentation for Art Now at Tate Britain entitled 'A Tumour (In English)'. In 2012 his work was exhibited as part of 'Tomorrow Never Knows' at JVA at Jerwood Space, London and he had solo projects at Chisenhale Gallery, London, Bonn Kunstverein and Isabella Bortolozzi Galerie, Berlin. In November 2012 he was one of eight recipients of the Paul Hamlyn Award. Atkins was a LUX Associate Artist 2010-11


James Richards (b. Cardiff, Wales 1983) lives and works in London. Recent solo exhibitions include Rodeo Gallery, Istanbul (2011); DISAMBIGUATION (collaboration with Steve Reinke), Trinity Square Video, Toronto (2009); Swallow Street, London (2009). Group exhibitions include Clunie Reid and James Richards, Art Now, Tate Britain (2010), The Generational: Younger Than Jesus, The New Museum, New York (2009); Nought to Sixty, ICA, London (2008). Richards won The Jarman Award in 2012 and was a LUX Associate Artist 2007-8 


Laure Prouvost (b. 1978, Lille, France) lives and works in London. She was recently awarded the Max Mara Art Prize for Women. Recent solo exhibitions include 'The Wanderer', Spike Island, Bristol; 'The Wanderer (Betty Drunk), International Project Space, Birmingham; before, before. before it was, the title sequence, spinning before next, a squid, MOT International (all 2011); All These Things Think Link, Flat Time House, London; Art Now Lightbox, Tate Britain, London (2010). Prouvost has been nominated for The Turner Prize 2013 and was a LUX Associate Artist 2008-9