Symposium Day 2: The First Universe - curated and presented by Richard L. MacDonald (UK)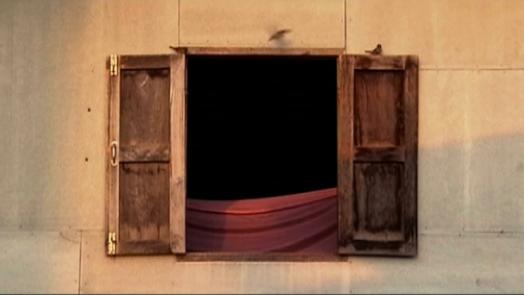 Elam School of Fine Arts, Free Admission
Still from Endless Rhyme (2008) Tanatchai Bandasak (TH)
"A house constitutes a body of images that gives mankind proofs or illusions of stability." - Gaston Bachelard
Home is the lullaby that lures the dreamer, the pegged out washing line glimpsed through a window's freckled glass. Home is plenitude and paucity, love and loss, still life and encircling motion. The homes we have lived in leave their trace within us: the honest, unreflective gesture we make as we reach out a hand in the dark. It is the squall and the silence, reverie and routine, loneliness and labour.
Inspired by the films of the New Zealand artist, poet and experimental filmmaker Joanna Margaret Paul (1945-2003), this international program showcases work by four artists work invites reflection on dwelling places, the relationships between the interiors and exteriors of inhabited space and the ambivalences of home.
Tanatchai Bandasak, Endless Rhyme, 2008, 26:36
The dreamer is lured by a primal lullaby. Suspended in its melody he embarks on a journey to a remote past, before sunrise returns him home.
Joanna Margaret Paul, Napkins, 1975, 3:18
In her poem Songs of Seven Seasons Paul wrote of 'washing hung like a smile between hedges'. Spectral white washing lifts and tugs on a line that stretches away from the home, drawing the gaze that looks outwards to the boundary where the garden disappears.
Nova Paul, This is not dying, 2010, 20:00
The radiant ancestral home is a meeting point of the generations. The solid ground upon which projects, routines and itineraries are woven and layered, momentarily folding into each other like a brief alignment of planets.
Joanna Margaret Paul, Thorndon, 1972, 3:49
Light pulses on film. Paul's camera moves restlessly from the textured surfaces of paving and wall to the dappled shadow of a nodding shrub. Foliage encroaches stubbornly on the sharp jagged lines of weathered clapboard and corrugation.
Joanna Margaret Paul, Task, 1982, 4:03
A study of the routines of women's domestic work. A baby's clothes are ironed: left sleeve, right sleeve, front and back. Hands fold the dress and then start again.
Chris Chong Chan Fui, Block B, 2008, 20:04
Brickfields, Lumpur: Apartments stacked up like cigarette boxes, homes away from home, temporary staging posts on the restless quest for the next contract. Night follows day. An evening time of trysts and assignations follows feminine, neighbourly companionship and daily rounds.
Richard L. MacDonald is a lecturer of film and screen in the Department of Media and Communications at Goldsmiths, University of London. His research focuses on alternative and radical exhibition practices and histories of film study. His monograph The Appreciation of Film: The Film Society Movement and Film Study in Britain will be published by University of Exeter Press next year. He was a programmer for the 6th Bangkok Experimental Film Festival, 'Raiding the Archives'.
The First Universe was commissioned by CIRCUIT Artist Film and Video Aotearoa New Zealand. Presented as part of Looking Back into the Future - a symposium on artist moving image practice, August 29-31, Auckland.
Venue Directions: Elam School of Fine Arts, 20 Whitaker Place, Elam Lecture Theatre, Ground Floor, Main Fine Arts Building. Parking available at the Owen Glenn Building.