Temporary Mechanisms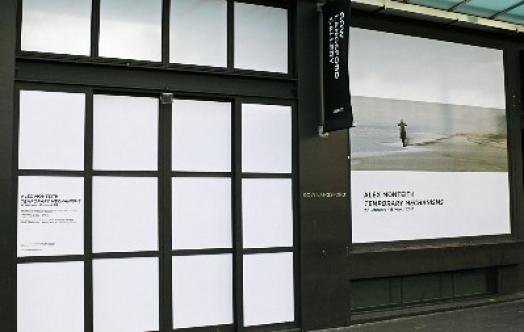 Feb 27, 2013

to

Mar 16, 2013
Temporary Mechanisms is Alex Monteith's first solo exhibition with Gow Langsford Gallery. Monteith is a prolific contemporary film maker known for her technically sophisticated video installations that reflect contemporary sports, cultural and social activities. Her works are typically performance and time-based; employing media such as film, sound, and video, and are often created in extreme or large-scale geographies.
In Temporary Mechanisms a 5-channel video installation titled 2.5 Kilometre Mono Action for a Mirage (2011) dominates the gallery space. In a spectacle of flux, balance and illusion, the protagonist, a Moto-X rider, pulls a continuous wheelie for three and a half minutes along 2.5 kilometres of idyllic New Zealand coastline. The wheelie is a notably delicate manoeuvre for a rider to execute over longer durations. Shot at a location north of Muriwai Beach, west of Auckland, the action was conceived specifically for the landscape's inherent atmospheric conditions.  
The second element of the exhibition is ART UTE.  ART UTE is a proposal to support a community of artists over time. ART UTE is a 1991 Toyota Hilux utility vehicle, a custom set of personalised registration plates and a conceptual ideology, that when combined, supports the making and exhibition of art projects through the provision of ART UTE to artists by its owner. For Temporary Mechanisms ART UTE acts as a collaborative project for which Monteith invited artists to create temporary exhibitions to be installed in the tray of a Toyota Hilux . Displayed at the front of the gallery the matt black, lowered Ute acts as a mobile social art project.
In a second aspect of the Artuteinitiative sound artists were invited to contribute audio works to be played in the cab via the trucks sound systems. These exhibitions within the exhibition will rotate on a weekly basis beginning with John Ward Knox (26.02.13 - 04.03.13), followed by Sarah Monro (04.03.13 - 11.03.13) and lastly Judy Darragh (11.03.13 - 16.03.13). For the ART UTE project: audio for a good car stereo programme Monteith has lined up Rachael Shearer, Sean Kerr, D.A.N.C.E Art Club, Clinton Watkins and Linda T.
ART UTE is an on-going project that proposes mobile and collec­tive models of art and exhibition practice. The project proposes the ute be used in either the production of art (transport for artists to move materials around) or the exhibition of art using the space provided by the ute itself; the tray and cab. ART UTE values are speed, mobility, play and collectivity. Future curatorial decisions in relation to how ART UTE might support the art community could consider implications of these ideas, though not be unduly bound by them. ART UTE's main consideration is in the continued variation and possibilities for art that improvise and extend the spaces in which art might occur or be read. ART UTE's legal standing as a vehicle for use on Aotearoa's roadways means it can easily survive closures of architectural exhibition space in tough times. ARTUTE is not allergic to institutional space where an artist shows an interest in engaging gallery or museum associated spaces.
  Monteith's new publication Accelerated Geographies, published by the Govett-Brewster Art Gallery will also be launched by Rhana Devenport at the exhibition preview, Tuesday 26 February, 5 – 7pm.