Aerial Farm
Description: Single channel digital video and sound installation.
Exhibition Mode: Large projection (approx 2-3 metres wide, see image below) / Large LCD screen (55" approx). Continuous loop.
Media details: 1 x Apple Pro-res 422HQ digital file. Ratio: 16:9. Stereo audio.
Note: Stand-alone video; or with selection/complete works from the series Polar Projects.
Synopsis: Wind generated aeolian tones from a circular aerial communications mast and multiple wires. Mast and wires appear as a shifting, illusory graphic outline against a background of ice & intermittent snow-drift. Audio consists of a wide frequency band of tones activated by a 50k wind.
Installation Shot: (21st Century Collecting, Adam Art Gallery, Feb-March 2013)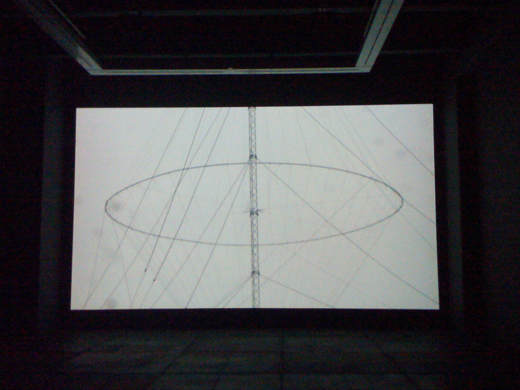 Credits:
One in a series of 8 works entitled Polar Projects, filmed in Antarctica (2003), produced with the support of Antarctica NZ and Creative NZ the Arts Council of New Zealand Toi Aotearoa. 
Selected Exhibitions: Tapping the Pulse, Philip Dadson works 1971-2004, New Zealand Film Archive, Wellington (2005) 
Polar Projects was nominated for The Walters Prize (2006). Collection of the Adam Art Gallery, Wellington; Collection of the Auckland Art Gallery.