Collector's Edition Glitch (Viewing Bridge)
Description: Mixed media installation (see below for full description and installation images)
Media: Adam Art Gallery's Epson EB-G6750WU digital projector, 100x45 tapered flange beam (cut in half), mild metal, Metro 105 woven mesh, tread plate (1 bar pattern), equal angles, adjustable swivel feet. It is fastened with counter-sunk socket and slot bolts, and finished with spray arc zinc, electroplated zinc, hot dip galvanising
Dimensions: W: 1776mm L: 2320mm H: 1050mm
Papakura Art Gallery replica bannister: (with additional armature), medium: mild metal, powder coating (Billion Silver), M5 316 jaw/jaw pipe turnbuckles, M10 x 40 coach galv Screws, 3mm stainless steel wire rope, stainless steel ferrules; Dimensions: L: 2100mm H: 1300mm W: 500mm
Workflow: CGI created using Blender, video edited and exported using iMovie 
Duration: 11:28 minutes (including extra chapter not included in Collector's Edition Glitch at Papakura Art Gallery 2014). Video designed for continuous loop.
Exhibition Text: "Eddie Clemens' website features a photograph of the artist as a boy of around twelve, smiling and giving the thumbs up beside an impassive Arnold Schwarzenegger in full character as the Terminator, a futuristic cyborg in human guise come to protect another young boy, John Connor, humanity's only hope in the impending war with the Machines. This charming but implausible montage speaks volumes about the artist's interests and modus operandi. Here, Clemens' cut-and-paste aesthetic meets the internet-generation's immersion in visual culture. Collector's Edition Glitch (Viewing Bridge) is a larger manifestation of the same processes and impulses, with the Adam Art Gallery itself as the setting for an encounter between digital technology, art practice, and the movies. For the installation version of this work Clemens constructed an exact replica of the actual bridge overlooking the long Chartwell Galleries in the Adam Art gallery. This served as both a literal base for his projection—like the bannister from the Papakura Art Gallery, where this work was first presented—and a prop in his homemade iMovie. This particular architectural detail and the vertiginous spaces it spans sparked connections to the James Cameron movies he grew up with: the bridge of the Titanic where Kate Winslet and Leonardo DiCaprio embrace; the inky depths of The Abyss, the metal flooring that morphs into the foot of the liquid-metal T-1000 in Terminator 2, and so on. Film and architecture became fluidily interchangeable, and in the new space they created, Clemens inserted his own antic human presence. We see his feet and hands clumsily trying to reconstruct specific shots, to replicate some of the computer-generated and non-CGI special effects the filmmaker deployed. Clemens relishes these 'glitches', the moments when technology falters. It is as if these are where techno-fiction tumbles into the real and where humanity may yet retain its edge." - Text courtesy of the Adam Art Gallery

This work is discussed in an essay by Mark Williams, 2016. 
Installation Shot: Collectors Edition (Glitch) Adam Art Gallery, Wellington 2014. Photo by Shaun Waugh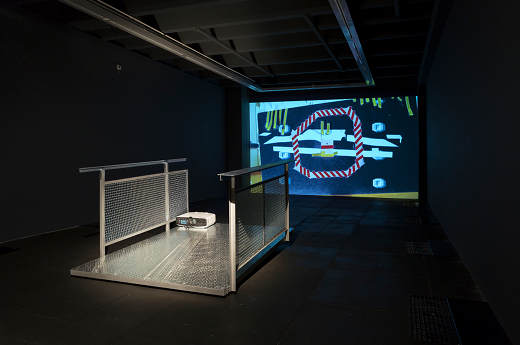 Installation Shot: Collectors Edition (Glitch) Adam Art Gallery, Wellington 2014. Photo by Shaun Waugh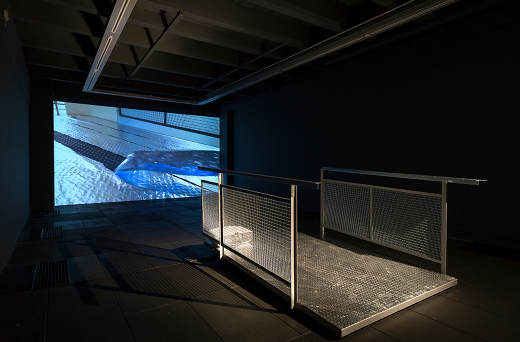 Installation Shot: Collectors Edition (Glitch) Adam Art Gallery, Wellington 2014. Photo by Shaun Waugh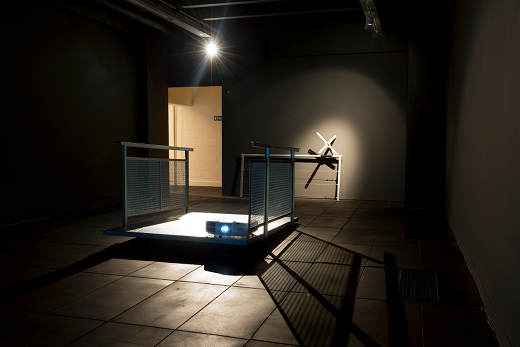 Credits:
Original source material: 
Opening to The Abyss Special Edition, 1993 LaserDisc Uploaded on Feb 19, 2012
https://www.youtube.com/watch?v=Dtt-TyPPIF8
Terminator 2 Judgment Day: Ultimate Edition DVD 1991, Directed by James Cameron
Omitted scenes: T1000 "glitch" hazard hand, T1000 searching John Connor's Bedroom – commentary from James Cameron
Titanic: Special Collector's Edition DVD 1997, Directed by James Cameron
Chroma keying: Making the music video (Celine Dion - My heart will go on), I'm the king of the World, Iceberg

Avatar (Extended Collector's Edition) DVD 2009, Directed by James Cameron
Chroma keying: Halo table, Set extension (deleted scene), "A Message from Pandora" (Amazon watch), Stuntmen haka
Aliens (Two-Disc Collector's Edition) DVD 1986, Directed by James Cameron
Get away from her you bitch, Chroma keying: Queen Alien ejected into space
Aliens: Kicking Ass with the Power Loader, Filmnstuff, Uploaded on Oct 13 2008
www.youtube.com/watch?v=ogvM9U4N8wc
Awesome Boss Battles, Aliens (C64), Filmnstuff, Uploaded on Nov 10, 2012
https://www.youtube.com/watch?v=jZWKFqVAWIk
Iphone5s Unboxing, TechnoBuffalo, Published on Sep 20, 2013
https://www.youtube.com/watch?v=0eOA1c9Fyeg
Apple - iPhone 5s - TV Ad - Metal Mastered, Apple, Published on Oct 20, 2013
www.youtube.com/watch?v=xYsSiaBZmRk
Titanic 100: New CGI of How Titanic Sank (commentary from James Cameron), National Geographic Published on Apr 5, 2012
www.youtube.com/watch?v=xYsSiaBZmRk v=FSGeskFzE0s
Tin foil bootlegging shot on the Viewing Bridge (Adam Art Gallery, Level 2). Tread plate hot dip galvanizing shot at Perry Metal Protection Ltd. Painted "glitch" hazard hands recorded at home on a blue Formica kitchen table. All footage shot on an iPhone5s Edited on iMovie 10.0.4 MacBook Pro Retina 2 GHz Intel Core i7 and iMovie App Version 2.0. CGI: Blender 2.69. Edited on iMovie 10.0.2. Macbook Pro 2.5 Ghz Intel Core i5