WOULD YOU LOOK AT THAT.
Continuing the artists' interest in the language, accessibility and representation, SPECTACULAR is a response to Plane Text, a 2012 Miami Art Basel project in which a number of artists (mostly white males) were invited to make text works which were towed by a small plane across the Miami skyline.
"…the effort and planning required of a young, emerging artist to pull off the same kind of stunt speaks to the huge discrepancy in resources between an ARI-led project and the spectacle of large scale art fairs. Considering the implications of representation in such a work-who gets space to speak in such generously funded and public forums-Pointon's work here becomes a meditation on art market values and the powers at play in it." - Robbie Handcock from the text WOULD YOU LOOK AT THAT. A Congratulatory Thing.
Installation Shots: play_station gallery, Wellington (2019). Photos by Pippy McClenaghan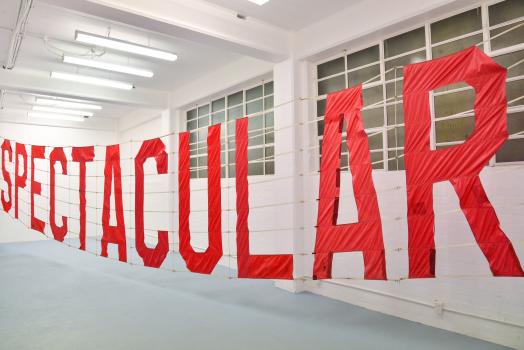 Credits:
Videography: Laura Duffy, Robbie Handcock, and Georgette Brown
Photography: Kasmira Krefft
Music: "New Zealand" from LARP of Luxury (2013) by Eyeliner
Originally exhibited with play_station, Wellington, February 2019. Facilitated by Robbie Handcock.
Install shots: Pippy McClenaghan
Video stills: Laura Duffy
"This project would not have been made manifest without all the help from the following: My colleagues, Womb, Glass Vaults, Ana Kōtiro, Alexa Casino, Club 290, Shaun Waugh, Airbubble Aerial Advertising & Banner Towing New Zealand,Courtney Macris, Rhys Parish, Tyler Jackson, Lisa Martin" - EP